Getting There.
The Belgian Grand Prix is held at the very fast circuit of Spa Francorchamps in the Ardennes region of eastern Belgium, about half an hour from Liege. This year, we decide to stay the 3 nights in Brussels which is just an hour and a half drive away. Brussels is also less than three hours drive from Calais which is in turn 35 mins away from Folkestone on the Eurotunnel.
This means that if you take the 3:27 am shuttle from Folkestone, you'd be checked into the hotel and having breakfast by 9 am. Very convenient for those who need to WFH (work from home) or WFB (work from Brussels).
And that is exactly what we did in the early hours of the Thursday before the race. This time though, we made sure to book the larger spaces on the shuttle to avoid the almost inevitable kerbing of expensive alloy wheels when using the smaller regular spaces.
'Ferrari Number 1' and 'Bumblebee' would be joining us in Brussels the next day.
Our usual hotel is the excellent Renaissance Brussels hotel. We've stuck to this hotel because it has secure parking, is centrally located next to Jean Claude Juncker and Michelle Barnier's offices, is very good value and you can be on the E40 out of Brussels in 5 minutes.
Thursday was spent settling-in, WFB, and getting much-needed rest and sleep. The action would start the following day.

Belgium. The Ardennes. The Drives
Late on Friday morning, we headed out of our Brussels hotel for our first visit to the Spa Francorchamps circuit 160km away. The first item on the day's agenda was to source discounted tickets from our usual Belgian sources (ahem). We would then watch the second practice session before going for the first of our Ardennes drives.
We parked up at the parking field opposite the media accreditation center so we could collect the FIA-issued paddock passes we had for the event. This was one of the many fields which had been turned into makeshift parking spaces for the weekend and it cost all of 10 euros for the entire day (try parking at Silverstone).
Strangely enough, discounted tickets from the usual 'alternate sources' were rather thin on the ground. I think the recent successes of Max Verstappen, a driver from neighbouring Holland in the improved Red Bull\Honda package, was to blame. I did manage to get a ticket for the 'Silver 2' grandstand which was an uncovered grandstand midway between the La Source hairpin and the bottom of the high-speed corner of Eau Rouge.
'Cheap' tickets and Paddock passes collected, we made our way into the circuit and I headed to the Silver 2 grandstand. I had a fantastic view of the pits exits, the exit of the La Source hairpin and a good view of the cars as they blasted past on the run downhill to the bottom of Eau Rouge.
I was well prepared to take photographs of the event and had no less than 4 cameras including two full-frame Canon 5Ds. I also had 4 lenses, including the excellent Canon 70-200mm f2.8 MK III telephoto lens, a new photography bag, AND a tripod. I was not taking any chances.
I think you see more of such an event through the lens of a camera and I spent a wonderful afternoon shooting the Porsche Supercup cars and then the F1 big boys. The differences between a really fast 'normal' car, which the Porsche Supercup cars are, and an F1 car are stark and staggering. The Porsche 'Cup cars are bouncy and a handful but the F1 cars simply do what their drivers are asking them to do. Brake, turn, accelerate. Hard.
While I had a good few seconds to watch and photograph the 'Cup cars navigate La Source, with the F1 cars, blink and they are gone….
Petrolhead Heaven.


We made our way back to the car park after the session and I was hot and sweaty by the time I got back there. Lugging a camera and lens-filled bag uphill in 30-degree heat is not easy.
The drivers of all four cars arrived on time and we set off on the first of our Ardennes drives, a short, 30-mile drive from the circuit via Stavelot and Ville Du Bois on the N-68 then we headed West on the N62 to join the E-42 in Neundorf for the journey North back to Brussels.
I remember when I was looking for driving routes in the Ardenne area a few years back and the advice I was given was simple and succinct: "Get out of the circuit and just drive". That advice was bang on the money as the Ardennes is full of roads similar in layout and elevation changes to the circuit itself. This is not surprising because the Spa Circuit itself started life as a series of public roads linking the Belgian towns of Francorchamps, Malmedy, and Stavelot.
The Belgians also love their cars and motorsport and still have a healthy view of sports cars and performance driving. Powerful cars like the ones we brought are still very much appreciated around these parts but their favourite is clear: The Porsches, specifically the 911 GT3. Many times they ignored the cars behind me, even the £250k Ferrari while taking pictures and videos of my car.
The Fans. The Bloody Hammy Fans.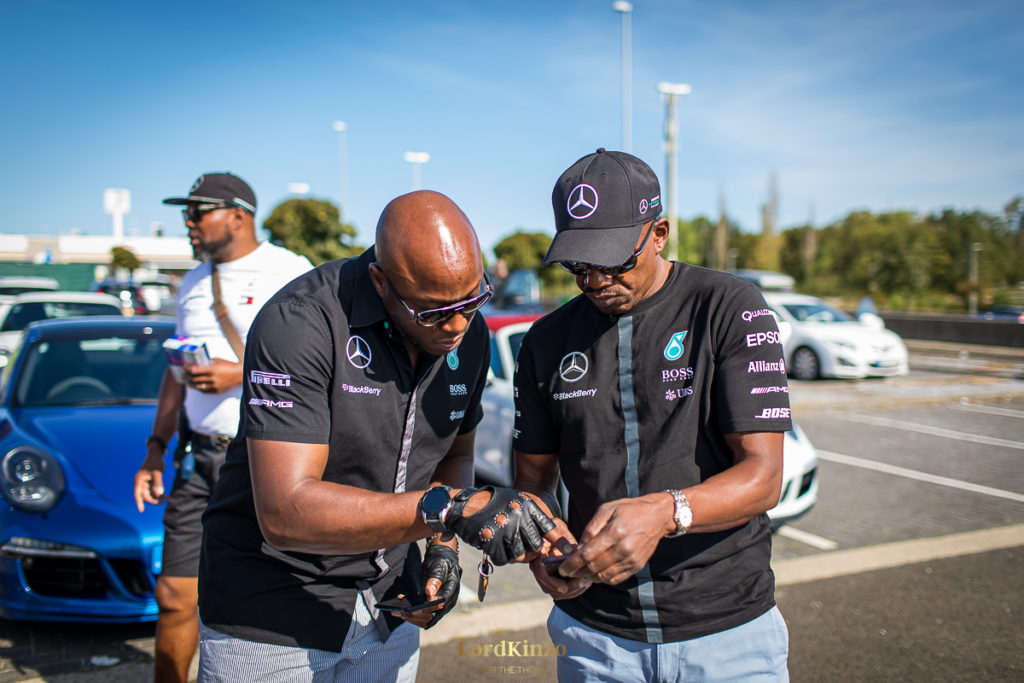 There were 10 cars and 12 Formula 1 fans present on this particular road trip and 10 of them were Lewis Hamilton fans. 83%. And not just casual fans either, some are die-hard Lewis Hamiton fans. They were almost always clad in Mercedes F1 gear and most of them headed straight to the Mercedes merchandise stands as soon as we got to the track to buy even more Mercedes F1 replica kit. As if they did not have enough!
What is even more annoying is the fact that they are all lovable, selfless guys who would always stick with each other in a jam. This quality was displayed when the white Porsche 911 (997.2) GTS developed a bulge in a rear tyre on the way to the track on Sunday, race day, probably a result of some enthusiastic driving, and they all refused to leave him even when I told them to continue on to the track.
So I cannot hate on them too much! Sigh.
The Race.
Saturday Qualifying. On Saturday most of us headed to the track for the qualifying session. 'Bumblebee', a Porsche Cayman GT4 , was missing because one of its drivers was sick and the other driver stayed behind to look after her. Getting a convoy of high-powered cars to and from the circuit was the responsibility of the convoy leader, Red 1, (me) and the convoy sweeper, Red 2. Luckily we have done this many times and honed our communication and methods and we are yet to have a mishap even though we drive hard with many 'Hammertime' sessions. Our communication abilities were further enhanced by the use of 2-way radios for the first time. Each car was issued with a radio and so we were in constant contact with each other. Nice!
We parked up and made our way into the circuit and a few of us entered hallowed paddock area using the FIA issued paddock passes. We were in effect guests of Jean Todt and the FIA ( Fédération Internationale de l'Automobile). These passes allowed us into the pits and the area behind the pits where we rubbed shoulders with F1 royalty such as Sir Jackie Stewart. These are the areas where many iconic pictures are taken and there was the usual scrum of professional motorsport photographers behind the Ferrari, Mercedes, and Red Bull garages after the 3rd practice session.
This area though provided valuable behind-the-scenes activity involved in the operation of an F1 team. No one was smiling and everyone was focused on the task at hand..even the staff serving drinks in the FIA motorhome.


After hob-nobbing with the great and the good in the paddock areas, I headed for the area at the bottom of the fabled high-speed corner of Eau Rouge. I've been attending this Grand Prix for the past few years and watching F1 cars at full chat through this corner remains a singular and almost spiritual experience. I think this is one of the best places to see an F1 car and to understand just how other-worldly their performance actually is.
TV does not do F1 justice at all.
Charles Leclerc in his Ferrari SF90 took pole position by a whopping margin of 0.7 seconds. He was in a class of his own.
Anthoine Hubert. Rest in Peace.
Qualifying done, we made our way back to the parking areas and as we did so, we could hear the F2 cars start their feature race. We heard the race start and abruptly stop. Unknown to us, there had been a 170 mph crash at Radillon which would claim the life of the reigning F3 champion, Anthoine Hubert.
A stark reminder that all forms of motorsport, including Formula 1, is dangerous and racing drivers are modern-day heroes.
May his soul rest in peace.
2nd Ardennes Drive.
We headed out of the circuit and I led the convoy of high-powered cars towards the Belgian town of Stavelot and Ville Du Bois and this route starts out fast and sweeping, then slows to a crawl through the cobbled streets of Stavelot and Ville Du Bois where the convoy was cheered as we made our way past, then begins climbing, twisting and diving once past Ville Du Bois and then gradually gets faster and faster with 1** mph sweepers beyond. You can drive for hours and hours in this region and not get bored.
I will be back in the autumn to do just that.
Incidentally, all you have to do to get a cheer from F1 fans anywhere here is to shout "Max!" and I did just that at every opportunity.
Very juvenile, I know.
Sunday. Race Day.
We had a packed schedule on Sunday, we had to check out of the hotel, drive to Spa Francorchamps, watch the race, then head straight back to Calais 350km away from the track, to catch our 9:13 Eurotunnel train back to Folkstone. Intense, with no room for the application of 'African Time'.

"African time or Africa time is the perceived cultural tendency, in parts of Africa and the Caribbean toward a more relaxed attitude to time. "
This is exactly what we got on Sunday morning and things were further complicated when a bulge was spotted on the left-rear tyre of the Porsche 997.2 GTS at the first fuel stop. This did not bode well for him at all because he still had to somehow get to Calais, never mind the race.

Anyway, after a long conversation with Porsche assist, he was able to continue on to Spa and on to Calais at a much-reduced pace.


We arrived at an eerily-quiet Spa about an hour before the race started, the death of Anthoine Hubert the day before had cast a pall over the place and that there was clearly a sombre mood at the track. We quickly headed to our respective grandstands to watch the race. I would be in the 'Gold 1' grandstand, which is directly opposite the pits and alongside the starting grid. The fact I paid about a third of the face value of the tickets made me enjoy the race more.

I set up my preferred camera and lens combo and settled in to watch the whole race through a telephoto lens which and this was absolutely marvelous because of the different viewing perspective and the many, many details that were subsequently revealed.
The race was intense and interesting, made all the more thrilling by Lewis Hamilton's late-race chase down of the lead Ferrari. Charles Leclerc hung on to win his and Ferrari's first race of the season. An astonishing fact.
In this hybrid F1 era, Lewis Hamilton has almost always been a factor in the majority of the races. He is a true F1 great who will be sorely missed when he eventually calls time on his astonishing and record-breaking career.

I started walking towards the car park as soon as Leclerc crossed the finish line in front of me, but I could not leave the grandstand area because there were thousands of Belgian F1 fans blocking the entry\exit getting ready for the customary track invasion.

You just gotta love the Belgian F1 fans.
We all eventually arrived back at our car park and proceeded to leave the circuit, but emerged into the mother and father of all traffic jams, the worst I've seen in all my years of coming to Spa and this meant that we would be definitely missing our scheduled train. Sigh.
We did try to make up for lost time, but heavy-ish traffic meant we could not have driven as fast as we could and so we accepted our fate, and 'cruised' to Calais. 100km from Calais we got a text update informing us that our train was delayed and we would be on time. Hooray!
We realized we had celebrated too soon as soon as we arrived at a chaotic Calais. The 'delay' had been caused by 'technical' issues and we were at first informed we, with standard tickets, would not be leaving France till the next morning, while we watched 'Ferrari Number 1' who had a 'flexi' ticket cruise almost immediately onto the next train. Lesson learned.
I will not bore you with the details of the next few hours, suffice to say we did not drive onto the train until the early hours of Monday morning, bringing another epic road trip to an end.
Even the train problems added to the charm of the trip for me.
The Experience.
Everything I've talked about in this article adds up to one heck of an experience. We collectively covered 8,500 miles, the distance from Mexico City to Cape Town in only 4 days and almost that entire distance was fun-filled and interesting. We caused a stir almost everywhere we went judging by the number of whipped-out camera phones and the number of times I heard fellow hotels guests explaining to their kids why they do not have one of the cars lined up outside the hotel.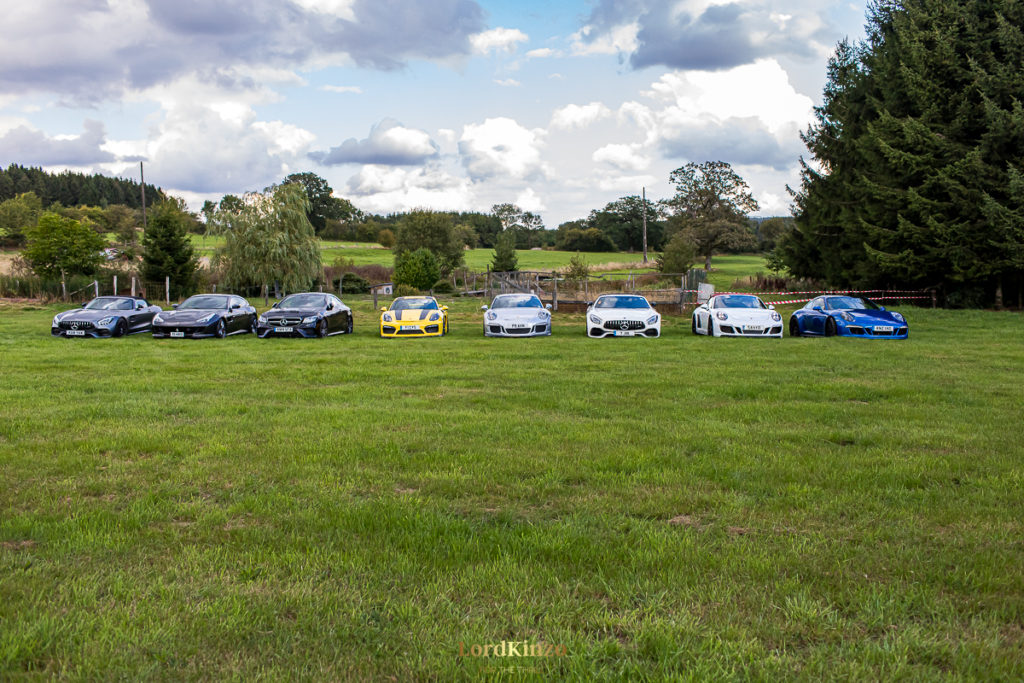 We drove fast, we drove hard, we had fun off and on the road, watched a great Formula 1 race, and the camaraderie was just right.
We will do it again twice next year.
Till the next time.
The Cars.
Porsche.
911 (991.1) GT3 aka Red 1. 475bhp, 3.8-litre na flat-six, 3.7 sec 0-60mph, 197 mph.
911 (991.2) GTS Cabriolet. 444bhp, 3.0 litre, 24-valve turbocharged flat-six, 4.2sec 0-60mph, 193mph .
911 (991.1) GTS Coupe. 424bhp, 3.8-litre na flat-six, 4.3sec 0-60mph, 190mph.
911 (997.2) Carrera 4 GTS Coupe. 404bhp, 3.8-litre na flat-six, 4.5sec 0-60mph, 190mph.
Cayman (981) GT4. aka 'Bumblebee'. 385bhp, 3.8-litre na flat-six, 4.2sec 0-60mph, 183mph.
Mercedes.
Mercedes–AMG GT Roadster (R190). 476bhp, 4.0-litre twin-turbo V8, 0-60 3.8sec, 196mph.
Mercedes-AMG GTC Roadster (R190). 549bhp, 4.0-litre twin-turbo V8, 0-60 3.5sec, 196mph.
Mercedes-AMG E 53 4MATIC+ Coupé. aka 'Red 2', 429bhp (+20bhp hybrid), 3.0-litre in-line six . 0-60 4.2sec, 155mph (limited).
Star of the Show.
Ferrari GTC 4 Lusso T. 602bhp, 3.85-litre twin-turbo V8, 0-60 3.3sec, 190mph. The quickest to 60mph and it does not fall over in a confused, expensive metallic heap when you show it a corner. You can also bring more than one full-sized human with you. Astonishing.