A Search for Tier Points.
I had 160 reasons for flying 8 hours 26 minutes in total (nearly 3,400 miles), to and from Arrecife, Lanzarote. I had to collect 160 BA Tier points in order to maintain my particular Executive Club membership and the flights to and from Lanzarote in a particular cabin class would give me the points I needed. The fact that Lanzarote was reputedly a fantastic destination for cyclists was not lost on me.
Lanzarote is the northernmost and easternmost island of the Canary Islands and has a volcanic origin. It was born through fiery eruptions and has solidified lava streams as well as extravagant rock formations which are visible everywhere. The island, along with others, emerged after the breakup of the African and the American continental plates. Lanzarote is the fourth-largest of the islands in the archipelago. With 142,000-odd inhabitants, it is the third-most populous Canary Island, after Tenerife and Gran Canaria. You can drive for miles in any direction and not see any significant plant life. An eerily beautiful place.
Thursday.
So on a Thursday morning, we boarded a flight at London Gatwick (why is it called 'London Gatwick'? It is nowhere near London) and landed in the sun-drenched Arrecife Airport, Lanzarote 3 hours and 20 minutes later. 1 hour after touch down, we had cleared immigration and customs, retrieved our bags, jumped in a taxi and were in the lobby of our stunning hotel.
Hesperia Lanzarote.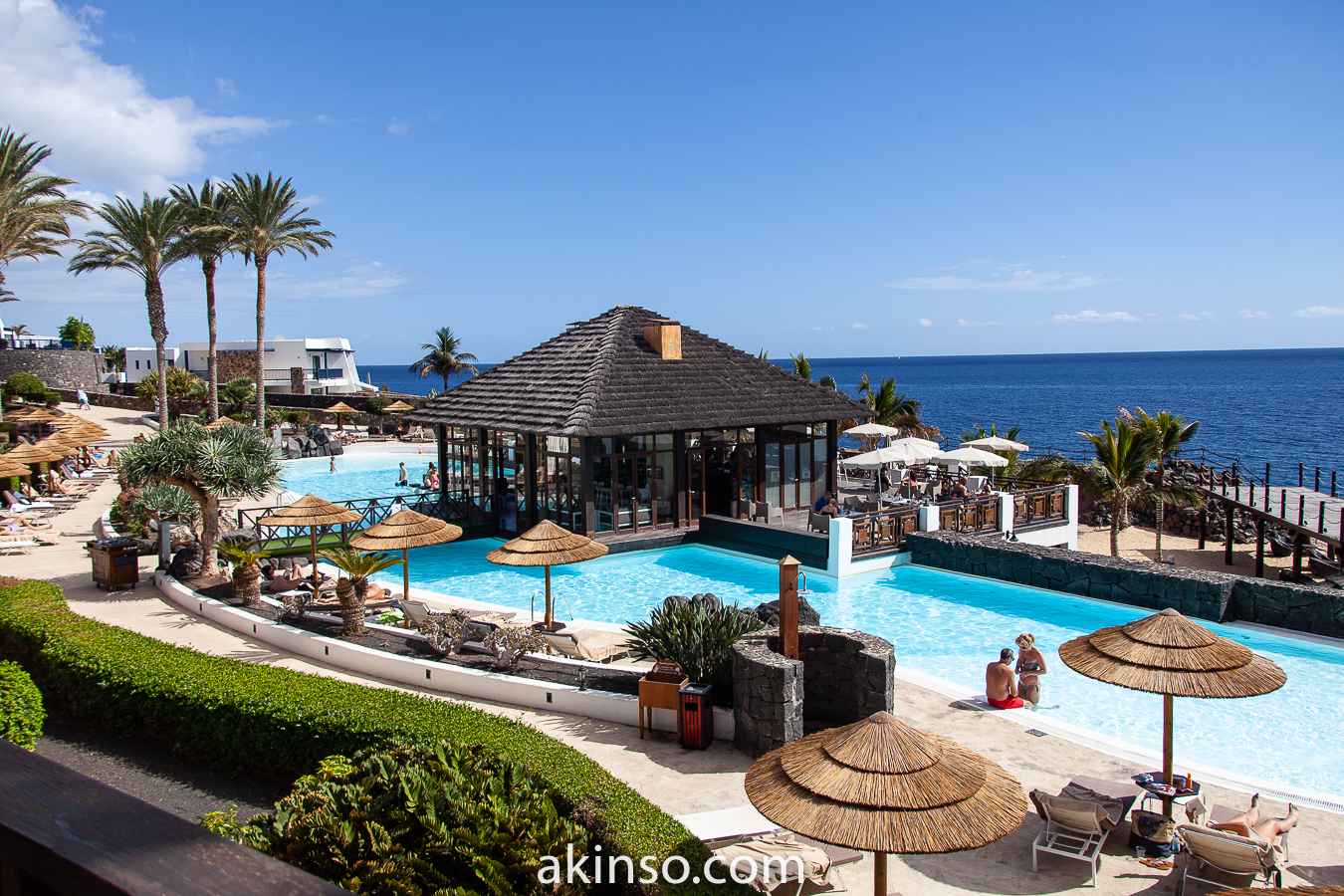 I'll just come out and say it: You will have to travel far and wide to find a hotel that offers better luxury, location and views for the price. I challenge anyone to find one. Maybe it was the time of the year, but still. When we checked out a few days later, I asked the receptionist to double-check the bill to make sure it was correct as I just could not believe the final bill.
Overlooking the Atlantic ocean, this upmarket hotel in a modern white-painted building is but a mere 13-minute walk from Puerto Calero town center and 8km from the famous Rancho Texas Lanzarote Park.
All the rooms had either a balcony or a terrace, the airy rooms and suites offer free Wi-Fi, flat-screen TVs and minibars. Suites add sitting areas, whirlpool tubs and tea and coffeemakers. Room service is available 24 hours, though annoyingly, there was a charge for it!
Buffet breakfast and parking are complimentary and there were several dining options including a Mediterranean restaurant in which semi-formal attire was mandatory (no shorts and flip-flops please), an international buffet eatery and a poolside snack bar. I counted 4  swimming pools and a tennis court, as well as a spa with a sauna, a beach club, a Turkish bath and a gym.
You do have to wake up early to secure a lounger beside any of the pools though as the guests, especially the British ones, with military precision and timing, reserved all available loungers well before 9 am.
A most annoying practice.
Fully responsive mobile touchscreen gallery below. Best orientation: Landscape.

The rest of the day was spent 'Working From Home' (WFH), or more accurately, 'Working From Lanzarote' (WFL), exploring our new surroundings, taking sunset pictures and dinner in the less formal restaurant. No way was I getting dressed for dinner today.
Friday.
Friday started with some more 'WFL' then it was off to Free Motion, the bike rental store in Puerto Del Carmen, to pick up the Cannondale SuperSix Evo I'd rented for the weekend. The bike rental process and pickup were relatively painless and after a few adjustments to the bike fit, I was off back to to the hotel and some more 'WFL'.
A few conference calls later, it was time for my first proper ride in Lanzarote. I had only a few hours before sunset, so decided on an easy, fast route via the LZ-2 to Playa Blanca via the picturesque town of Yaiza.
Playa Blanca is situated on the south side of the Island and is the third-largest tourist resort on the Island, but first I had to get there and while the most direct route there looked easy on paper, I soon discovered that the fierce winds on this day made it anything but. The first 2km from the hotel to the LZ-2 main road was a 5% average climb with some steep (19% gradient) sections with no chance for a proper warm up.
I turned left at the LZ-2 and continued climbing all the way to the Femes roundabout before the road levelled and became a gently rolling super-smooth highway. What a road! Wide and smooth with the most spectacular and eerie of landscapes.
Fierce Winds.
As I went through the plant-lined town of Yaiza, and towards the El Golfo region on my right the winds picked up. Fierce, brutal winds. I'd heard about the winds in Lanzarote but the strength and ferocity of the winds shocked me.  I remember being on a  -3% gradient and putting out 250 watts and only moving at 15kph! I had to check my Garmin twice as I struggled to believe what my Garmin was telling me. The closer I got to Playa Blanca the fiercer the winds became, at least I'll have a tailwind on the return leg.
At Playa Blanca, I had a quick lunch at a waterfront cafe while watching the ferries go through their delicate docking manoeuvres and disgorging even more tourists. The views were utterly mesmerising and I know I have to come back to this very spot.
Lunch\gawping over, it was time to get back to the hotel 25kms away and this time, I'd have a tailwind or so I hoped, only to get back onto the LZ-2 to discover that the wind had changed direction and I was now confronted by a cross-headwind…sigh. So I hunkered down, got as low as possible and began pressing for home. I had my music and I had an amazing, eerie and almost weird landscape to distract me. The landscape reminded me of the Mars landscape as depicted in the 2015 Matt Damon film, 'The Martian'. One phrase kept popping into my head on this ride back: 'Beautiful desolation'.
The sun had set by the time I saw the turning to Puerto Calero and the 2km descent back to the hotel. It had been a tough but weirdly enjoyable ride.