Playa Del Duque, Tenerife
Tenerife is the largest of the Spanish Canary Islands just off the West African coast and it is dominated by one landmark, the dormant volcano, Mount Teide. The summit of Mt Teide is the highest point in Spain and is also the highest point of any Atlantic Island. The fact that Tenerife has good weather all year round and there are excellent roads and different routes to the summit of Mt Teide mean it is the perfect training ground for cyclists and other extreme athletes. Chris Froome and Team Sky (now Team Ineos) are among the professional cyclists and teams that regularly train on Mt Teide.

We have been to Tenerife a few times before and it is but a 4-hour BA flight from Gatwick to Tenerife's TFS airport. We landed at TFS airport on a Thursday evening and jumped into a taxi, bike box and all, for the short 30-minute ride to our hotel in Costa Adeje in the south of the island.

There was a reason we selected a hotel in this area: it was only a few hundred meters away from the upmarket district around Playa Del Duque plaza and the fantastic Playa Del Duque beach. This whole area is a high-quality, stylish and exclusive resort. 'Chic' even. You better make sure you have your best swimwear on if you ever visit this beach. This beach has also been awarded the Blue Flag which certifies its' high environmental standards and high standards in general.

At the Melia Jardines Del Teide check-in, it was immediately obvious we had picked a good hotel. The hotel was built on a hill with fantastic sea views and panoramic views of Costa Adeje. This meant that the hotel was only two stories high on the landward side but 7 stories deep on the seaward side and there were different amenities and services available on each floor. The main entrance, reception, one restaurant, a bar, one swimming pool were on the 5th floor, my room was on the 7th, two other swimming pools were on the 2nd floor and the exit to the beach was in the basement…it was good fun working out where everything was.
The rooms were bright, spacious and airy and we had stunning views of the mountainous terrain from our private balcony. The balcony served as a temporary bike workshop-cum-storage area. Unpacking and assembling a bike suddenly became a very pleasant task.
Melia Jardines Del Teide
I'll let the pictures do the talking. It is easily one of the most picturesque hotels I've stayed in.
So with the bike assembled, dinner wolfed down in double-quick time, it was time to retire and the sight of the mountain skyline quickly lulled me to sleep.

I woke up Friday morning feeling refreshed, energised and ready to tackle the ride I had scheduled with one of the local cycling tour operators, Club Activo. They had arranged a private tour for me and they duly sent Adam, who would be my personal, exclusive tour guide for the day. More on Adam later.

Adam and I had a brief discussion about the day's route, he was worried about the low clouds which often prove to be hazardous at the altitude we were planning to ride. We decided on the 'easy', quiet route up the mountain and one which I had never ridden before. The ride would prove to be anything but 'easy'.


Teide. A Dastardly Mountain
We set off just after 9 AM to tackle the first 20km from La Caleta to Chio and initially, the terrain was more 'rolling', scenic and quite enjoyable and we were able to set a good pace. Well, 'good' for me, probably a leisurely warm-up ride for Adam. This first part of the ride also included the 10.74km, 3% (Cat 2) climb to Guía de Isora (GDI) which we dispatched fairly easily.
We rode through this municipality to our first stop in the village of Chío,
the popular cyclist stop, 'Snack Bar Parada Chio', a typical Canary establishment with tasty snacks and drinks served by friendly and helpful staff. This would be our last opportunity to eat on this route, so Adam advised me to eat as much as I could and recommended a delicious homemade rice cake snack.
Now, the tough part, from Chío to Teide. A 26km, 1,347m elevation gain at 5%, Hors catégorie (HC) climb. HC is a French term used in stage bicycle races to designate a climb that is "beyond categorization". As tough as they come. So we began climbing and I began the delicate juggling of physical resources, speed, cadence and power. You see, I had to manage my meagre physical resources over three such rides. And I planned to keep the stops to a minimum. Adam had no such problems and he made it look soooooo easy. Annoyingly so.
Ground zero for rock enthusiasts
We kept riding, kept climbing, and kept ticking off the kilometers. The higher we climbed, the more the landscape changed until it became an entirely volcanic landscape where nothing grew. The evidence of the forces that shaped this mountain and Island were all too visible now and you could even make out the patterns of the lava flow that once ravaged and shaped this place. This was ground zero for rock enthusiasts.
We were often alone, and sometimes we saw no one nor any signs of life for long periods. Adam often raced ahead to keep himself amused and to take pictures of this lone, suffering cyclist.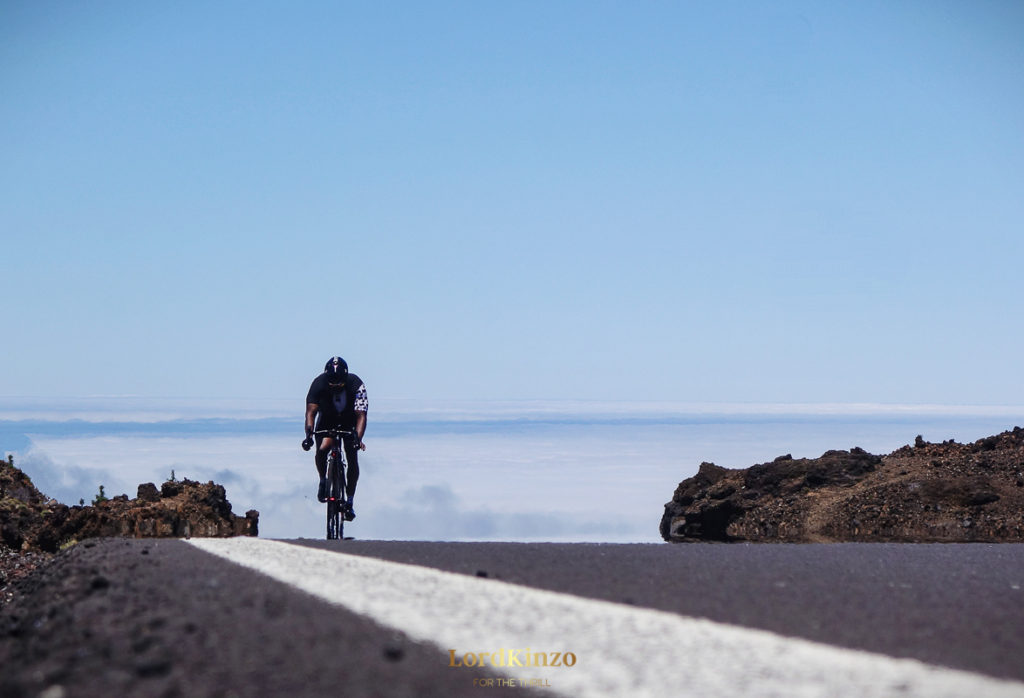 The higher we climbed, the thinner the air became and once above 1,600 meters or so, every pedal stroke became a force of will, a mind-over-matter affair. I can usually maintain 200 watts for long stretches, but on this day and at this altitude, I was barely able to muster 150 measly watts. It is easy to see why the pros train here.
Higher and higher we climbed ticking off kilometer after kilometer till we rose above the clouds into the most majestic setting and views imaginable.
We were now approaching the end of this climb, where it leveled off and there was 3-4 km of welcome downhill and a mercifully flat road through the crater itself.
Ironically, the longest and flattest road I've ridden on in all my visits to this Island was this one, the road through the crater of a dormant volcano at 7,000ft.
If you are seeking the flattest road in Tenerife, you have to climb 7,000ft to get to it
This was a good opportunity to take pictures and Adam duly made this most of it. We rode through the crater to a car park for a brief rest and feed stop before tackling the final 3.5km, 5%,'El Teide South Crater Wall' climb.
I wanted to reduce the number and length of the stops and this one was also kept short because we would be stopping again at the very top of the mountain for the obligatory, no, mandatory photographs with the famous Teide sign.
The Descent
After spending a few minutes taking pictures at the famous sign marking the summit of the mountain, it was time to tackle the 36km descent down the steeper northern side of the mountain. We had to put back on all the layers of clothing we had shed on the way up because we would be plunging back down at high speed through the cold cloud layer and the wind chill could be very unpleasant if you were not properly dressed.
As we began our descent back to sea level 7,000 below, we left the warmth and sunshine at the top of the mountain and plunged into the cold, dark clouds. We picked up speed through a -10% gradient section and blew past a 70kph sign..errr did that sign really say 70kph? No matter, we were on the fastest and most dangerous part of the descent, with a hard rock face on the left, and a sheer drop on the right.
Get it wrong here and a helicopter would be required to retrieve the body.
Get it wrong here and a helicopter would be required to retrieve the body
Down we went, after the superfast section at the top, we hit the twistier, trickier, part of the still very fast descent and it was thankfully, much easier to keep up with Adam, whose skill and bravery was worthy of mention. Controlling his bike down this fast and dangerous descent while operating a camera with one hand is skilful as well as brave. He also gave early warning of the dangers ahead.

These mountain descents are dangerous and exhilarating at the same time. You can cover ground quickly and safely if you master the technique for fast mountain descents: Brake hard and in a straight line, do all your braking before the corner, shift your weight rearwards, press hard on the outside pedal, lean into the corner and always descend on the drops.
Just before the village of Vilaflor, slightly misjudged one fast right-hander and went too wide into the path of an oncoming vehicle. I narrowly avoided a monster crash by taking some extreme avoiding action as the faces of my children flashed before my eyes.
The image of their faces acted as a third brake from that point on and I did not protest too loudly when Adam suggested we slow down to take pictures.
The faces of my children flashed before my eyes
We made it to Los Cristianos at the foot of the mountain without further incident in a disappointing time of 43:30, at an average speed of just over 45.2 kph. I say disappointing because I had hoped to smash my previous personal best of 41:45 with an average speed of 47.1 kph. I know a time of 35 minutes or less is possible for me, and I will be back soon to achieve that time. A time of 34 minutes flat would put me into the all-time, top 10 fastest descenders of this mountain.

A Beautiful Ride
I woke up on Saturday feeling not too bad from the exertions of the previous day. Saturday though had been designated as a rest, recovery and 'touristy' day. So we spent it exploring the Playa Del Duque plaza and beach. Nothing beats falling asleep on a lounger on a beach as beautiful as this one. Sheer bliss.

Sunday. I had another (group) ride scheduled with Club Activo, only this time we would have the support of a vehicle driven by a very interesting and funny Dutchman, Ed, as well as Adam on the bike. We would be driving East for 40 minutes to the starting point of this particular route in Guimar. As we drove to the starting point, one of our group asked Ed: "is this route flat and easy?"
His response was epic: "This is Tenerife, we do not have any flat roads". Cue much laughter and mirth to the chagrin of the lady who asked the question.
"This is Tenerife, we do not have any flat roads"

Ed
This route starts in the East of the Island and winds its way South, along the quiet TF-28 back to Los Christianos via Arica el Viejo and San Miguel. I would be riding a longer and harder route with Adam to equalise the riding times between myself and the others in this group.
And as soon as we saddled up, the road kicked up immediately into the 4.31 km, 4%, Cat 4 climb to Mirador Don Martín de Güímar. This would be the pattern for the entire day: Up and down, up and down, through the most amazing scenery imaginable and through the most quaint and picturesque hillside villages.

The first 10km was mostly uphill and the next 10 mostly 'rolling' downhill. The following 15 km after the initial 20 took us to Arica Viejo and this road, the TF-28, is one of the most stunning roads I've ever ridden on. If you are ever in Tenerife, I beg you, ride on this road, you will not regret it.


I beg you, ride on this road, you will not regret it.
Arico Viejo is a village located about five kilometers from the municipal capital of Arico, reaching an average altitude of 952 meters above sea level. The urban area though is only around 400 meters above sea level.
We stopped here for a few minutes to fill our water bottles and collect some more homemade flapjacks from Ed. I do not know what he puts in these flapjacks, and frankly, I do not care. They are simply dynamite.

The next 20km took us from Arico Viejo to the highest point on this route in another municipality, Granadilla de Abona. The views were simply jaw-dropping. We noticed another curious thing here, the residents are clearly classic car enthusiasts as we spotted so many in fantastic, original condition.
Adam insisted on stopping to admire and photograph a 1961 Mercedes Benz W111 220SEb Opera Coupe. I'm a car enthusiast too and did not need to be persuaded to do so. The stop gave me the opportunity for a much-needed sneaky rest. Please, Adam, take your time.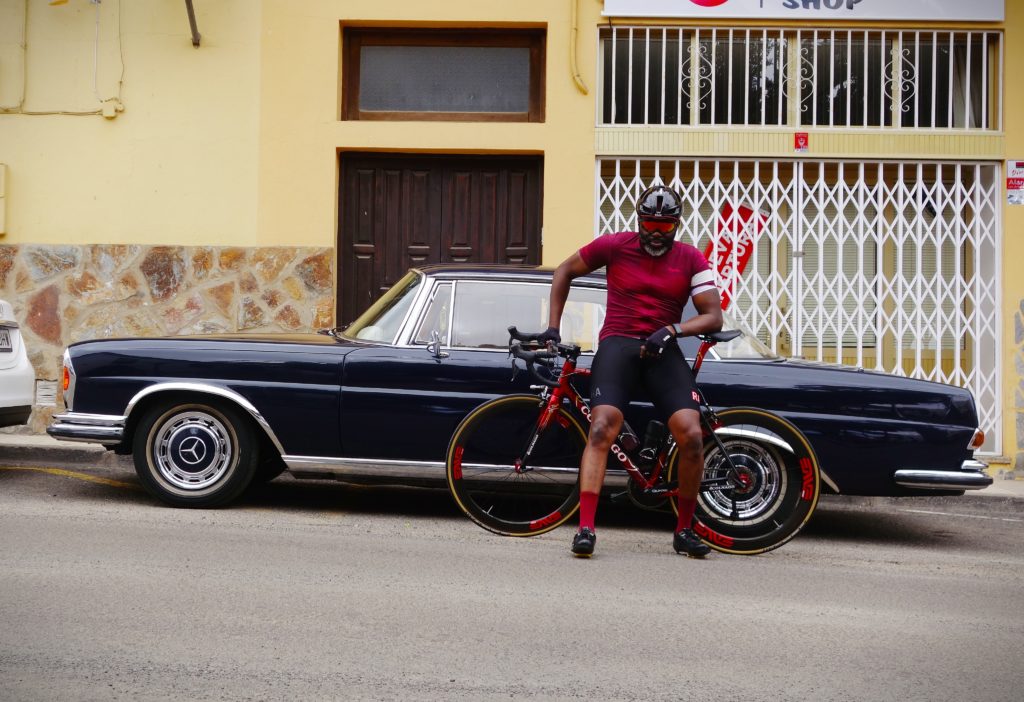 We stopped gawping at this beautiful classic car and continued on to the last real test, the 6.31 km, 6% climb into the pretty town of San Miguel De Abona where a Canary Island lunch would be waiting for us.

The best part of this climb was the very last kilometer, which was also the steepest, but it went through the very pretty cobbled streets of San Miguel and you could almost forget the gradient.
We had a bowl of delicious rice and chicken for lunch and then began the last leg of our ride, the fast 15km descent into Los Cristianos.
We did hit some silly speeds here but the road was mostly wide and straight and perfectly safe.
As Adam escorted me back to the hotel, I wanted to turn around and do it all over again, just to take in the beauty of the route once more.
That is the power of this place.
Till the next time.
Special thanks to Adam, Ed and Club Activo.