769 miles (1,238 kilometers), 11 h 21 min via A26. These are the driving stats google returns when you type 'Calais-to-Nice'. And oh, that is one-way only. So the drive to Calais and back would cover 1,538 miles (2475.171 kilometers) and take 22 h 42 mins!
Easy.
A few of my friends had decided they wanted to attend the 2018 Monaco Grand Prix and I joined their party as I was also planning to attend this event.
Who came up with the daft idea of driving all the way there and back? Errr , that would be me. ('?????') You see, driving my car all the way to Monaco would at least give me a chance to drive my car on the historic and hallowed Formula 1 track Lewis Hamilton, Sebastian Vettel and company would be contesting this round of the 2018 FIA F1 championship on the same weekend. It would also give me a chance to go 'supercar baiting' in and around Monaco and Nice. What's not to like?
So a Villa in Nice was rented for the F1 weekend, Eurotunnel crossings booked and F1 Sunday-only tickets were duly purchased.
The Crossing.
We duly assembled at the EuroTunnel folkestone terminal very late on Thursday to catch the midnight crossing only to miss our train through no fault of ours. The terminal train schedule displays basically gave the wrong information. We would have to wait over an hour to catch the next shuttle which we did without any further issues. 35 minutes later we disembarked at Calais and reassembled at the petrol station just outside the terminal around 2:00AM to fill up with french fossil fuels and begin our 750+ mile journey to Nice.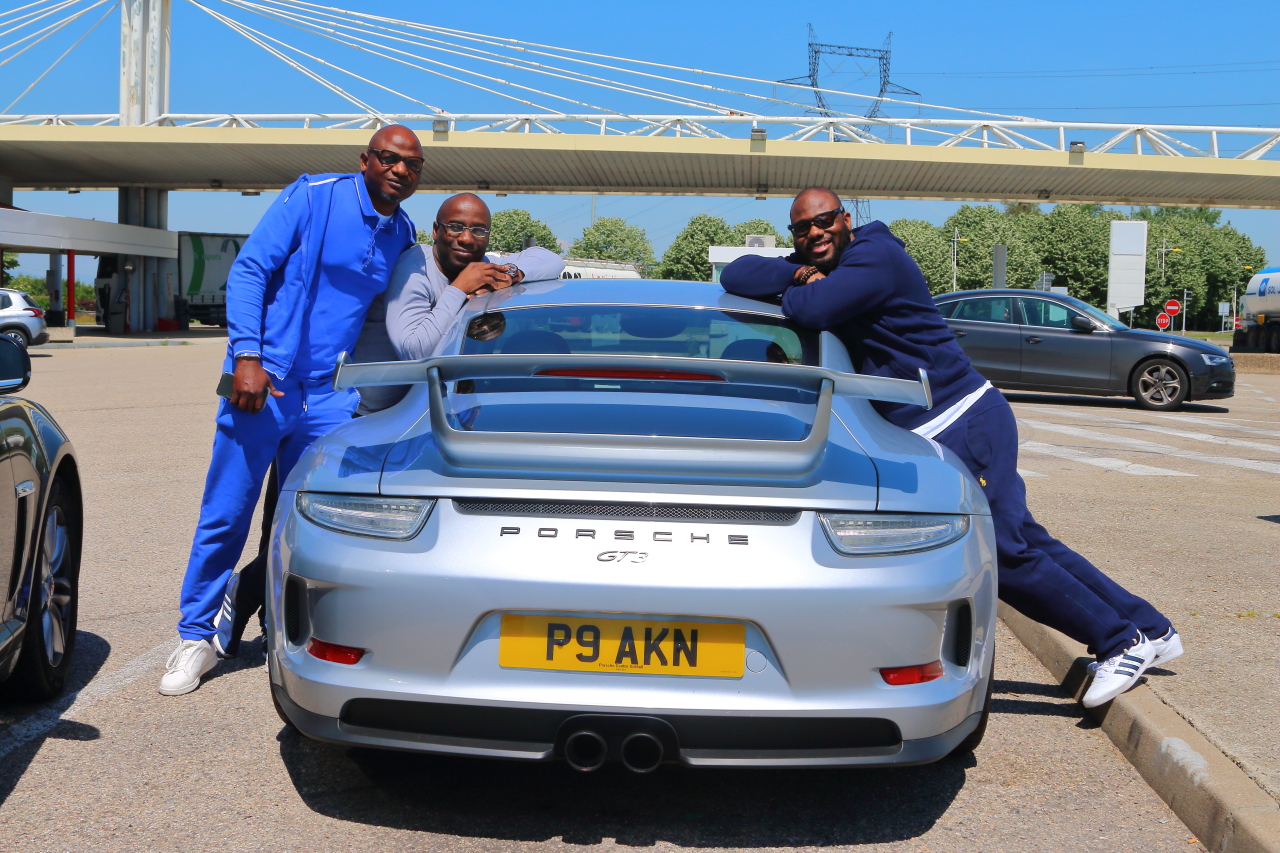 To Nice.
I was designated 'Red 1', the leader of the convoy and the car and driver charged with navigation and keeping the convoy intact while maintaining the highest average speed possible.  No easy feat I tell you as I basically had to  consider the convoy when making any manoeuvre. Sudden and sharp manoeuvres or changes of direction were out, the same with fierce accelerations and braking. I basically dove the entire distance with one eye on the rear-view mirror. We left the petrol station and eventually merged onto the A26  where we were enveloped by the thickest fog I'd ever seen. Pea-soup thick. Biblical even. Visibility was reduced to probably 20 meters in places and we dared not go faster than 50mph.  We often crawled along at 35mph. This fog went on for mile after mile and probably lasted for almost two hours. Two hours of 100% concentration while fighting sleep, two hours of staying in the tracks of trucks which had the brightest lights and mirroring what they did. I never told anyone but that was the most dangerous and toughest, not to mention slowest, two hours I've ever driven. Many times I considered pulling over and waiting for sunrise.
Luckily we survived this phase of the journey without any mishaps and shortly pulled into one of the autoroute service areas for fuel, a nap, refreshments and coffee. This would be the pattern of the journey to Nice: Drive as fast as conditions (and speed radar guns) allowed for 2-3 hrs, pay motorway tolls many times,  stop to refuel, stretch the limbs, use the bathroom, grab some food then repeat. And repeat. And repeat.
It was a relief when the sat nav 'distance to go' counter dropped below 50 miles as we approached the Antibes and Nice areas. It is not easy to drive 769 miles overnight plus the distance to Folkestone which was another 100 miles in my case, making a grand total of 869 miles each way.
We arrived at our villa where we settled in, showered and then explored our fantastic surroundings which was located in a small, steep valley. We then went to have a well-earned dinner at a nice French seafood restaurant on the nearby Plage du Salis beach.
I do not even remember how we got back to the villa and how\when I went to bed. I just remember waking up the next day still fully clothed.