The Race
The L'Etape du Tour is the Tour De France for amateurs and the name means 'A stage of the Tour De France'. We have been taking part in this event for three years but this year's event, the 29th L'Etape, would be the toughest. By far. The event's organizers had chosen a humdinger of a route, which was the exact route of the 20th stage of this year's Tour De France.
The route started in Albertville and ended in the ski resort of Val Thorens, 135km away and at an altitude of 2,356m. That though is not the whole story because the route went over the huge 20km Cormet De Roseland Category 1(1968 meters above sea level) climb and the beastly 30km Hors Categorie Val Thorens climb to the finish line. And oh, there was the small matter of the Côte de Longefoy in-between the two.

The three climbs totalled a huge 4,563metres of elevation gain over the route!
Jeez! Sigh. Jeeeez! Sigh.
© Sportograf

Albertville and Brides-Les-Bain
Albertville, a sleepy French town of just 19,000 people is a commune in the Savoie department in the Auvergne-Rhône-Alpes region in south-eastern France and is best known for hosting the 1992 winter Olympics. The race village was located here but we would be staying 33kms away in another Olympic Village, Brides-Les-Bains.
Getting to Brides-Les-Bains would involve a flight from London city airport to Geneva and then a 2-3 hour coach ride from Geneva to Brides-Les-Bains. Not the most convenient of journeys. This journey was further complicated by the cancellation of my flight as I got to the airport which then required British Airways to put me on an evening flight from Heathrow, back where I had just been driven from.
Aaaaarggghh!!!

Many others were not so lucky though, they would be forced to delay their outbound journey for at least 12hours. My flight cancellation also meant further complications for our tour operator, Sportive Breaks, who rose to the challenge in my case. I'd be arriving in Geneva much later than planned and they waited for me even when I informed them that the rescheduled flight had been delayed.
'No cyclist left behind' appears to be their motto and kudos to them for that.
We arrived in Brides-Les-Bains in the early hours of Friday and I was therefore unable to check-in at the chosen chalet hotel. Sportive Breaks simply checked me into one of their spare rooms in another hotel 300m away. I fell asleep fully clothed as soon as I saw the bed. So tired was I.

I woke up late the next morning, set up my bike and joined the Sportive Breaks group ride. They planned to ride 30kms from the hotel and ride part of the last climb of the L'Etape Du Tour, the mighty Hors Categorie Val Thorens climb which was less than 5 km away. They planned to ride 30kms and ascend well over 1,200 meters.

Thanks, but no thanks.

I informed the ride captain that I'd be turning back well before half-distance. This ride gave me a first look at the herculean task we would be facing on the following Sunday. We would arrive at the foot of this 2,096-meter climb with well over 2,000 meters already in the legs.

The 'Crew'
We spent Friday night catching up with the rest of 'The crew' over dinner in Albertville. 'The Crew' was a 27-strong contingent of cycling buddies, mostly African, from FOUR different continents, who had made the yearly pilgrimage to the 'Rolls Royce' of sportives. Our adopted, superfit 'L'Etape Aunty' was also present. I've made many friends through these cycling events and activities and it is always good to hang out with them.
The food was horrible, but the company made up for it.

This event brings people together and is one of the things that make this event so special. The pain and suffering it can inflict on the participants is another reason, one I'll explore later.
Saturday. We boarded the Sportive Breaks coach early on Saturday for the short hop to the Albertville 'race village' to register for the race and buy the official Rapha L'Etape kit. There are usually bargains to be had here but I somehow managed to limit the damage to my wallet.

We received some bad news while we were at the race village, one of our friends had crashed on a warm-up ride and had been brought to the race village for medical attention for a suspected broken collarbone. We managed to see him just as he was being transported via ambulance to the local hospital where it was confirmed that he had indeed broken his collarbone and would need surgery.

His L'Etape Du Tour ended before it had even begun.
Get well soon, Setor.
Sunday, Race Day
We had a very early start on Sunday, our bikes had to be handed over to Sportive Breaks for loading onto the coach by 5 AM, have breakfast and be ready to depart the hotel on the coach at 5:30 AM for the trip to Albertville 33 km away.
We arrived at Albertville where are bikes were unloaded and we dispersed into our different pens. For once I was lucky and would be starting in 'Pen 6', this meant I'd be starting much earlier than the previous events in which I started in the very last pen, making one of the hardest rides I would ever tackle that bit harder.
Safely ensconced in my allotted starting pen, I mulled over my simple 'race' strategy once again, I'd ride as fast as I dared to reach the final cut-off point at the foot of the last climb, while conserving enough energy and strength to tackle it. Sounds simple doesn't it?
I also used this period of calm (before the storm) to study the other inhabitants of 'pen 6' and they were a varied bunch indeed. I met a Canadian who lived 5 miles away from me in London who was tackling his tenth L'Etape. His wife was there on the other side of the barrier supporting him. It was also the tenth L'Etape she had provided moral support.

Beautiful.
Such beautiful stories are actually commonplace at the Etape and more remarkable stories would be created before the day wore out.

At 7:47 AM we were ushered to the line and set off to tackle the 135 km and 4,563 meters of the 2019 L'Etape Du Tour. The first 1 km is flat and I think it was the only flat road we encountered all day. The strong boys took off like scalded cats while the rest of us watched them ride off into the distance. The next 15 km was pleasant with gently rising roads and a total elevation of less than 300 meters till we hit the town of Beaufort at the 20 km mark at the foot of the first real test, the 20.3 km, Category 1, 1,105-meter elevation Cormet De Roselend climb.
© Sportograf

Cormet de Roselend

I started the climb at a steady pace, keeping my power output to around 200 watts as I made my way up this mountain. 7 km in I was still enjoying myself and the spectacular views of the French countryside. This is another reason I love this event and only philistine cyclists do not count the views on an Etape route as a major draw.
13 km up the mountain, I was passed by two Nigerian pros at a scarcely believable speed. Unbelievably, they were chatting, singing and patting each other in the back and they cheerily called out to me as they flew past.
okaaayyyy.
The views kept getting better and better the higher I climbed and if you looked up, you could make out a never-ending, colorful, slow-moving line of tiny cyclists wrapped around the French mountainside.
I could stay here all day, but I could not afford to hang about because of the ever-present threat of the dreaded 'broom wagon'.
32 km in, we hit the Lac de Roselend, a lake created by the arch-buttress Roselend Dam and it is jaw-droppingly beautiful. We actually rode 2 km along it and those 2 kilometers are among the most scenic 2 km this cyclist has ever ridden.
Once past the lake, it was time to head to the summit where a few more members of 'The Crew' caught me and took photographs with me. 'What took you guys so long?' I nearly jokingly asked.
The temperature by now was into the 30's and coupled with the difficulty of this climb and the altitude, many cyclists were already suffering..

The suffering had only just begun.
The suffering had only just begun.

Over the top of the mountain and into the 19 km descent, fast, flowing and furious to start then it became technical, tricky and even dangerous further down. These Alpine descents are exhilarating if you love descending as I do, but nerve-wracking and scary if you do not.
I encountered my first real problem on the descent, my front brake was juddering so I could not brake as I like and it meant I compensated with the rear brake which threatened to overheat the longer the descent went. It became an exercise in brake management.
This descent was also famous because Johan Bruyneel, the Pro cyclist who would later lead the infamous US Postal Team, overcooked it into a fast left-hand bend and disappeared over the edge in the 1992 Tour. The spot is ironically marked with a big 'Johan' sign painted onto the concrete barrier.

Pity I could not take photographs.
The descent ends in the nondescript village of Bourg St Maurice, and then it is just over 12 km on the D220 to the village of Mâcot-la-Plagne and the nearby La Plagne ski resort.

Cote de Longefoy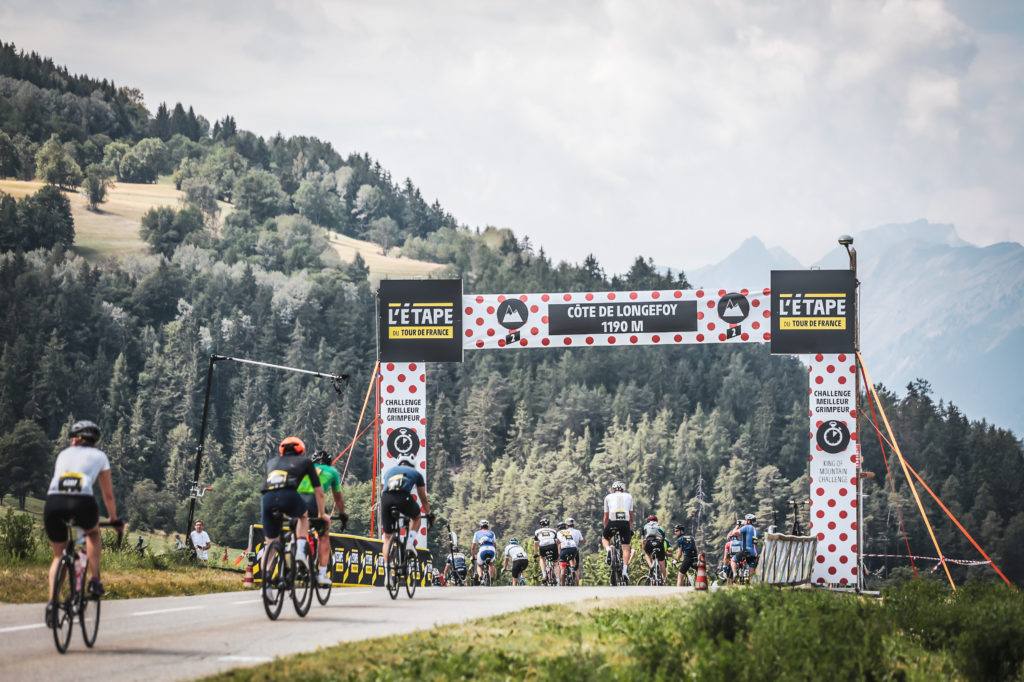 © Sportograf
Mâcot-la-Plagne marks the beginning of the 12 km climb to the ski resort of Notre-Dame-du-Pré via the Cote De Longfoy. The Cote De Longfoy is a 6.6 km, 6.5% average gradient climb, which on paper is not too bad, but the heat at this time was approaching 40 degrees Celsius. When you get to the top, you still have to travel a further 4 km to Notre-Dame-du-Pré before the road tips downward into the 9 km, highly technical, 26-hairpin descent.

I really rued my juddering front brake and my alarmingly loud and overheating rear brake. The road surface in places was also not the best and my wrists, forearms and fingers took a heavy battering. I was so happy to reach Moûtiers and my first and hopefully, my last stop of the ride.


Val Thorens
Sportive Breaks had set up a feed stop and had transported a bag filled with what we thought was necessary for the final ascent to Val Thorens. I had cannily arranged for my lightweight, but powerful Fujifilm camera to be brought to this stop as I was expecting to capture some epic images on this last climb. The Sportive Breaks chaps filled my bottles and told me how much time I had to get through the qualifying cut-off point so I could not afford any long breaks. I wolfed down a few snacks and proceeded to take a few test pictures before leaving and was greeted with the message "no media card installed". I had forgotten to replace the media card!!!

Sigh.
This would be my second-biggest disappointment of the entire trip.
So I started the last climb, the mighty 36 km, 2,096-meter elevation Hors Catogorie Val Thorens climb. The average gradient was 5.2%, but there were quite a few 9-10% sections and a one or two short, gentle downhill sections, so the gradient was not consistently high, which was a good thing. The bad thing is we arrived at the foot of this climb with nearly 100 km and over 2,000 meters of climbing in the legs. And oh, the temperature was now nudging 40 degrees Celsius. The first few kilometers of this brute of a climb were not too bad, the average gradient in this early part never went above 8-9%, but the brutal, unrelenting heat had taken a severe toll on all.
5 km in, it became a heat management exercise with cyclists plotting a zigzag route from one patch of shade to another. In many of these few patches of shade, you had groups of beaten cyclists huddled together, their eyes staring blankly ahead and I actually avoided eye-contact with them because that would mean looking into naked pain and suffering.

On we went, form hairpin to hairpin, from shade to shade, by now gels and electrolyte drinks tasted horrible and I was grateful for the half-orange one of 'The Crew' gave me on this climb. I met quite a few on this climb and we tried to encourage each other as best as we could.
9 km up, we were passed by the car with a big countdown timer on its roof, and we were erroneously informed that this meant everyone the car had passed would not be classified…
I still pressed on because I'd been in this situation before and knew the time displayed on its roof signified how much time we had left, and I still had over 4 hours to cover 11 km and get to the finish. An achievable goal despite the extreme conditions.
© Sportograf

Dead bodies everywhere
Just after the 9 km mark, we came across a local who had kindly brought out his garden hose and was offering cold water to us. I gratefully filled my bottles and drank some of the sweet-tasting water. I also met another of 'The Crew' who also replenished his bottles and we decided that we would be finishing the ride, classified or not. So we proceeded.
We pressed on, frequently passing cyclists who were actually sleeping! Some looked dead, and the saying "dead bodies everywhere" was both stark and apt.
10 km to go, things were looking ok, yes, the heat, altitude, and course had taken a severe toll on everyone but I was sure I could finish the ride, even if it meant finishing on foot. This hope was dashed soon after as we came across another member of 'The crew', Big Swiss Phil, who informed us that the road had been closed just before St Martin which was literally a few hundred meters away. Ride over. Game, set and match to the Etape once more.

Once I'd admitted defeat there was nothing more to do but turn round, and descend to Moûtiers with Phil. At Moûtiers, we found out that we cyclists had practically drunk the town dry and we were forced to get cold drinks at the local supermarket, which was also running low on supplies.

There was nothing more to do but wait for the Sportive Breaks shuttle for the short hop back to the hotel. I simply refused to ride after such a brutal and bruising ride.

The Day after the 'Race Day' Before.
I'm not so sure there is a worse day than the day after failing to complete the number 1 cycling goal of the year. Especially one I had spent the best part of 6 months training for. The failure was tempered by the fact that so many of 'The Crew' had completed the ride and the messages of euphoria and victory went a long way in reducing the deep disappointment. I believe this euphoria and sense of accomplishment is what cyclists are addicted to and it is why we keep putting ourselves through these seemingly 'impossible' rides.
I was quite happy for them and proud of 'The Crew' as a whole.

Well done to them again. Very well done.
Appreciation
I have to applaud Setor for his stoicism and the calm acceptance of his misfortune. To train for months and fork out all that cash to take part in this event only to be prevented from doing so by an unfortunate accident is indeed galling. The fact he did not appear in the least bit bitter or angry about his situation and was in reasonably good spirits (despite the pain) when we saw him, speaks volumes about his character.
Rups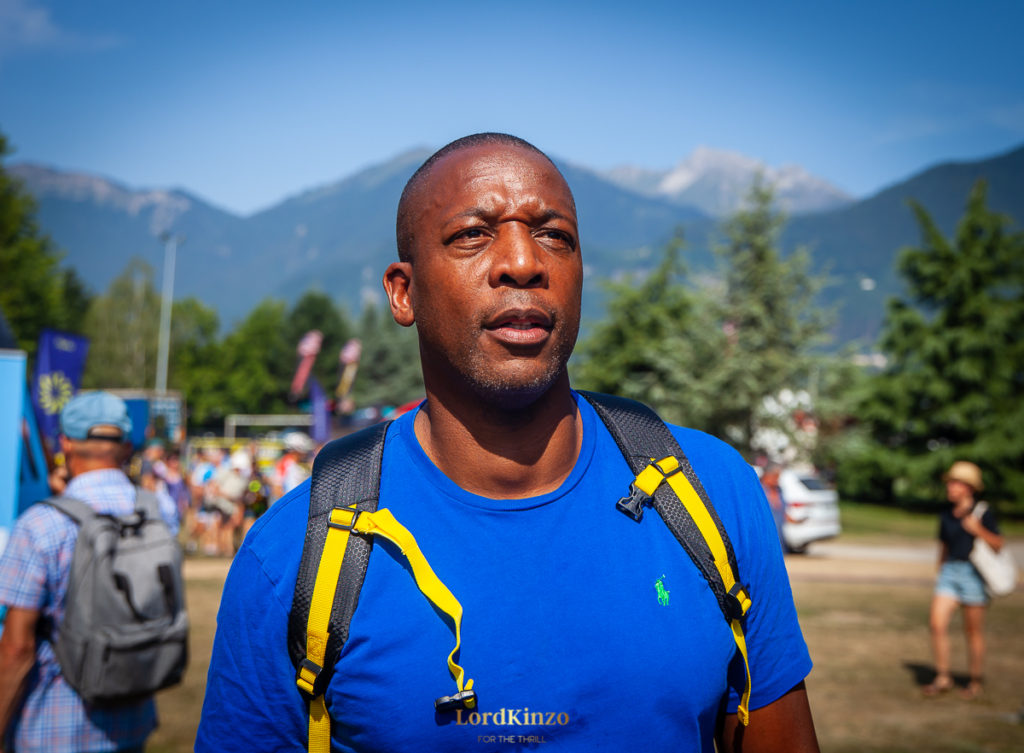 The 'man of the match' award though, goes to Rups. He somehow dragged his 110 kg+ frame over TWO huge mountains, one an HC climb, to the finish line in Val Thorens. I must confess I did not expect him to finish because he would race a milk float delivering the daily milk, so fierce is his competitive spirit. How would he handle being passed by 65 kg cyclists? I expected him to push too hard on the first climb and 'blow'. Big time.

He didn't. He somehow managed to restrain himself and complete the ride when many others, myself included, could not. He said he would cross the finish line, come what may, and he did. He has also only been cycling for about a year and knew next to nothing about cycling when I first met him.
How many people would dare take on the hardest Etape in years after only ONE year of cycling? Not me.
You can only applaud him for his display of courage and steely determination.
I will never bet against him again.
While failure hurts (it always does) it was tempered by the whole experience, 'The Crew' and the fact that there are specific reasons for the failures, three now, to make it to the finish.

Participation in these events is an enriching experience, and I'm sure I'll be boring my grandchildren with tales of these experiences. I'll tell them of how their grandfather never gave up, how he came back, again and again, to face his demons in the L'Etape Du Tour.
I'll also tell them of the day he finally beat the course and not just finished, but was also classified.

See you next year.

L'Etape Du Tour 2019 Statistics
Stage 20 of the Tour de France.
135km. 4,563m.
16,000 participants. Men 93%. Women 7%.
11,734 finishers.
Val Thorens. The highest ski resort in Europe.
Cormet de Roselend – Category 1.
Côte de Longefoy – Category 2.
Climb to Val Thorens – Hors Catégorie.
71 nationalities.
Average age: 44 years old.