Our European road trip almost did not happen and that is not surprising given the events of the past 6 months. Several members of our party dropped out and the trip was postponed by a week to accommodate the rescheduled Etape Du Tour, the 'Tour De France' for amateurs I had signed up for. That event was subsequently cancelled due to the COVID-19 pandemic.
Should we still go? Is the trip worth the risk? What about social responsibility? Could we afford the mandatory quarantine period?
In the end, the global pandemic which put the trip in doubt almost until the day we left these shores was also the reason we persevered with it.
These days, with a global pandemic that shows no sign of ending soon, nothing is guaranteed, and who knows if we will ever be able to go on such trips in the future?

Better to go while we still could, despite the risks.
Day 0
To Baden-Baden, Germany
The route we'd use on the road trip was devised by my cousin, and it turned out to be an absolute cracker. Its starting point, Day 1 of the road trip, was in Baden-Baden, Germany, 650km from Calais.
One mid-September Wednesday morning, we loaded up the car, my Porsche 911 (991.1) GT3 RS, complete with carbon bucket seats, racing harness and roll cage, with luggage for two for a week.

This was no mean feat, but, by judiciously using the space around the roll cage, and the roll cage itself, we managed to fit our luggage in.
I'm pretty sure Porsche never intended for the roll cage fitted to its track-ready sports cars as part of the 'Clubsports' package to be used as a clothes hanger.

Sorry, Porsche.
Shortly after 9 am, we left West London and headed for Folkestone and we arrived at a deserted Eurotunnel terminal less than 2 hrs later. Where was everyone?
We were on board the shuttle less than 15 minutes after arriving at the terminal and we were quickly on our way.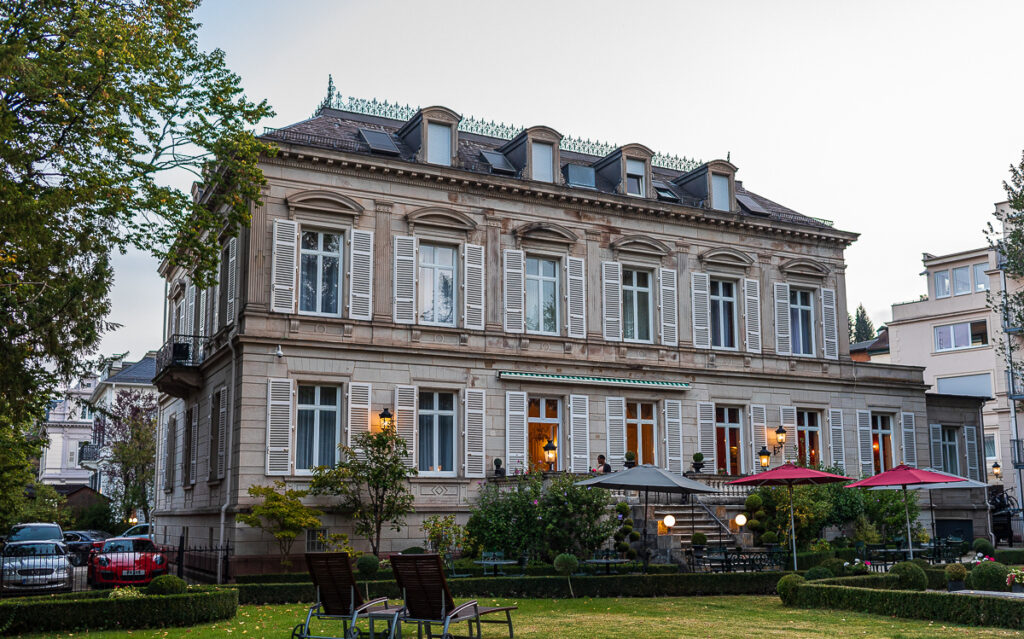 Forty odd minutes later, we were disembarking in Calais and heading to the fuel station just outside the terminal to fill up the tank. We would fill the tank many, many times on this road trip. Thankfully, 98-octane fuel is cheaper on the continent.

My co-driver then set the sat-nav to use the fastest, most direct route to our hotel in Baden-Baden. I gained a co-driver after a certain person found out about our planned road trip and somehow managed to infiltrate our plans. Not only did she invite herself, but she also managed to add a two-day stopover in Lake Como. Her 'incredible' co-driving skills and services were duly offered in exchange. She also promised to operate the Gopros and wield the backup camera, promising to capture images that I couldn't.

She fell fast asleep 15 minutes after leaving the petrol station.

The journey to Baden-Baden can be summarised like this:
Motorway, motorway, fuel and coffee stop, motorway, 'are you awake'? motorway, fuel and coffee stop, 'are you awake'? fuel, coffee and sandwich stop, till we arrived at our delightful hotel, the Hotel Belle Epoque, in Baden-Baden late in the evening.
We 'crashed' almost as soon as we entered our pretty room.
Day 1 – Germany
Baden-Baden to Waldshut-Tiengen
Gallery

We woke up early the next day as we had a long day ahead of us. We dressed, checked out and had breakfast in only one hour, a minor miracle. These early starts would become the norm on this road trip which would cover nearly 2,000 miles and go through FIVE countries. Six, if you add the UK.
We had a quick breakfast on the hotel's patio which overlooked a large, well-kept garden, and this gave us a chance to appreciate this boutique hotel.
I later found out that the hotel's villa was built in 1874 and was affectionately restored to retain most of its original features and interiors.
An exquisite hotel, pity we couldn't stay.

We loaded up (again) and departed to meet my cousin and his sublime 911 (997.2) GTS at his hotel, the Geroldsauer Mühle, which was conveniently located at the start of the B500, a mere 2km away.
My cousin was already waiting, engine and lights on, clearly eager to start the road trip, and so we began to drive.
I'll just come out and say it, the B500 is a sublime road, especially when it is empty. We saw only one or two cars going in the opposite direction for 45 minutes. I actually wondered if something was wrong. I think this was because it was a COVID-19-weekday.
I was driving a 911 GT3 RS, one of the finest sporting cars ever made, and I was on the B500, surely one of the best roads ever made, and it was empty…


I let rip. This first section of the B500 is known as the best motorcycle road in the whole of Germany, and I can see why. Wide, smooth, very fast in places, and very technical and tricky in others. I lost count of the number of uphill hairpin corners we tackled. Uphill and downhill hairpins are amongst my favourite corners and I could use the GT3 RS' prodigious braking power provided by the huge 410 mm front carbon-ceramic brakes (390 mm rear) into the hairpins and exploit its huge mechanical grip out of them. More on these brakes later.

The higher we climbed, the foggier it became, obscuring some of the views high up in the magnificent Black Forest around and below us. I now understand why it is called the 'Black Forest'. Thankfully, the fog never made the driving dangerous and we completed the first stint to our first stop in Kniebis at a very 'brisk' pace. Hehehe.
Kniebis

'The Kniebis' is a high mountain ridge, 960 meters high, and is also the name of the nearby village. We did not have too much time to linger and the fog prevented us from seeing much of the area. I'd definitely spend more time exploring Kniebis next time.
So we pushed on, using the L96 and the B33 to connect to the Southern half of the B500 at Triberg. The L96 part of this section of the route was dotted with many little towns and villages which we had to slow down for. So it was fast, fast, fast, slow, slow, fast, fast fast. The Germans love their cars and driving but also frown on anti-social behaviour and irresponsible driving, and so do we.

I think the famous 'don't be a dick' message as you leave 'Caffeine and Machine' should be placed at the point you enter these places. The last one we rolled through, the pretty town of Wolfach, marks the point where we turned onto the B33. We also managed to get a parking ticket, the only one on the entire trip, here. The B33 turned out to be almost as good as the Northern part of the B500 we had just gone through. Very, very fast in places, (almost any road becomes 'fast' in an RS) with a few sweeping bends which goad you into going faster and faster..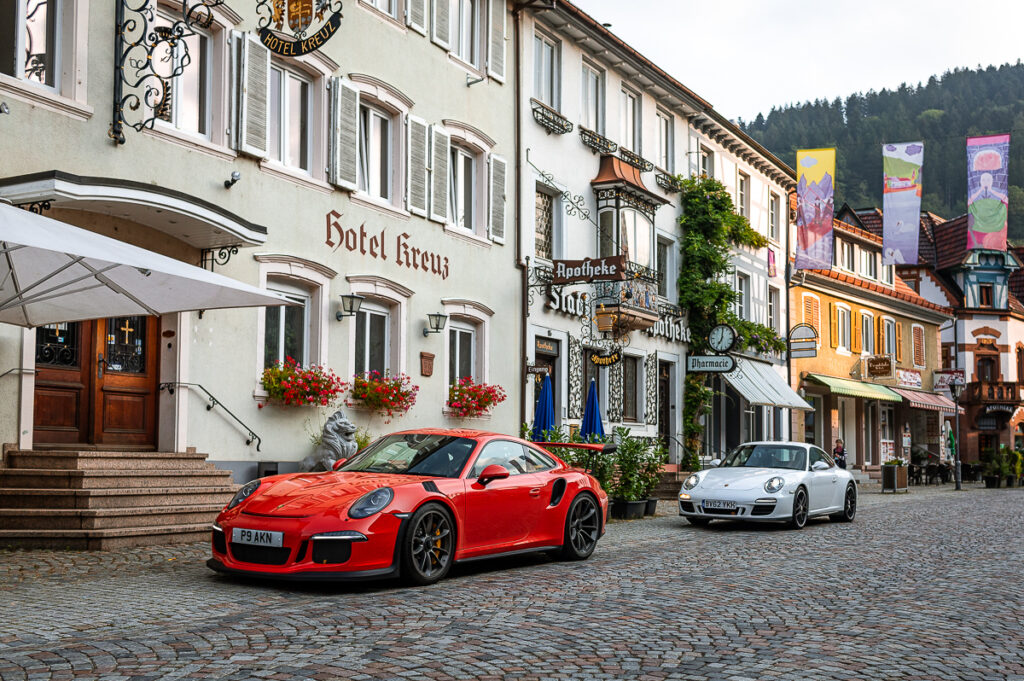 Any road that scores five stars in the prominent motorcycle touring websites is guaranteed to thrill in a car, and the B33 is one of those roads.

Just make sure you tackle it earlier than we did because traffic had started to build up. Not so much that it ruined the drive, but slow-moving traffic can disrupt one's rhythm and care must be taken when passing them. Ahem.
We followed the B33 all the way to the beginning of the southern section of the B500 near Triberg ( Triberg im Schwartzwald).
Triberg
Triberg im Schwartzwald is is a town in Baden-Württemberg, Germany and lies between 500m and 1,000m above sea level. This first stretch of the southern B500 to Triberg is fast in places, slow in others, but rising always.
The road then wraps itself around the lush Black Forest landscape, up and down, till it straightened out and sped up as we approached Arnikaweg, which we had to slow down for.

This 'fast, fast, slow, slow' pattern characterizes large sections of the B500 because the road links many towns and villages in the Black Forest together. We'd roll through an incredibly beautiful and tranquil village and think no village could be more beautiful, only to arrive at the next to find it even more beautiful and tranquil. I am going to come back and spend a week driving and exploring the Schwarzwald.

It truly is beautiful.
On and on we went through Schonwald im Schwarzwald village, the city of Furtwangen im Schwartzwald, past Neukirch and all the way on the B500 to Titisee-Neustadt. Here, the B500 became the B317 which ran alongside the south-eastern side of Lake Titisee. Roadworks prevented us from stopping here as it was well worth a stop. We followed the B317 until we could rejoin the B500 at the Rotmeer nature reserve. This continued through Neuglashutten and Altglashütten, a tiny, charming mountain village, with its flower-decorated homes and chalet-style hotels.

Leaving Altglashütten, we flew down the B500, all the way down to Segelschule-Schluchsee, the largest lake in the Black Forest. How many gorgeous and interesting places are we going to fly by? Sigh.
We turned off the B500 here and headed West on the L146. This led us to the excellent cross-country road, the L149. This road is narrow, twisty and oh-so-enjoyable. We sped along the L149 until we rejoined the B500 at Hausern for the last, traffic-clogged 7.8km to Waldshut-Tiengen right on the Swiss border.

Phew! That was nearly 200km of mostly enjoyable roads through some of the most beautiful countrysides I have ever driven in. My one big regret is that we flew past most of it and could not savour all the views, sights and scenery offered to us.
Next time.
Day 1 – Switzerland

Waldshut Tiengen to Filzbach, Switzerland
The Swiss border guard, on sighting a Lava Orange, bewinged Porsche that looked like it had wandered off a circuit, followed by another white Porsche, both sporting UK license plates, had to satisfy his curiosity.
"Where are you coming from?" he asked in almost perfect English, I responded: "Everywhere". He continued, "Where are you going?" I responded: "A lot of places", further increasing his befuddlement.

To avert an incident, I quickly gave him a brief summary of our road trip and that brought a smile to his face. He eyed the roll cage as he cheerily waved us through.
I won't bore you with the details of our journey to Filzbach which involved a meander through Zurich, a search for a petrol station to purchase a Swiss motorway vignette and a few Swiss motorways.

We arrived at our hotel in Filzbach just before 3:00 pm and we could not have picked a better base for the next two days. Filzbach itself lies at an altitude of 680m and our hotel, the Seminar- und Erlebnishotel RömerTurm overlooked Lake Walensee. If you ever stay at this hotel, make sure you book a 'lake view' room. This is imperative.

You are welcome.

Gallery

A European Road Trip – Route
Baden-Baden to Waldshut-Tiengen
Length: 194.2 km
B500 from Baden-Baden to Kneibis
L96 from Kneibis to Wolfach
B33 from Wolfach to Frejusstraße/B500 in Triberg im Schwarzwald
B500 from Frejusstraße/B500 in Triberg im Schwarzwald to Titisee
B317/B500 from Titisee to Segelschule-Schluchsee
L146 from Segelschule-Schluchsee to Häusern
B500 from Häusern to Waldshut-Tiengen
The cars
Porsche 911 (991.1) GT3 RS 2dr PDK aka 'Hellboy'
Engine: Naturally aspirated 3,996cc flat-six. 492bhp
Performance: Top speed 193 mph. 0-62 3.30s

Porsche 911 (997.2) GTS 2dr PDK aka 'Helga'
Engine: Naturally aspirated 3,800cc flat-six. 402bhp
Performance: Top speed 190 mph. 0-62 4.4s


Mileage. Quite a few people have expressed shock and horror that I'd put 2,000 miles on an RS in only a few days, that I'd be wiping thousands off its value. Indeed I've already received a 'cease & desist' letter from the 'Garage Queens Society'. My response to this is who knows what the car and anything else will be worth next year? Given the parlous state of the world's economy, the car may be worth zero next year and I may not even be able to use it at all.

Better to use and enjoy it and if I end up with a car that is worth less, then so be it. The car may still be worth a lot less even if I wrap it in cotton wool and tuck it away. Have you looked at the classifieds lately? Supercar values have taken a hammering and this is especially true of any supercar from Woking.

Brakes. I'm still not 100% comfortable with the PCCB brakes fitted to my car. They lack 'feel' compared to the iron brakes on my previous car, a 911 (991.1) GT3, feel dead at times and this makes modulation difficult. I've also misjudged the braking power required many, many times. Thankfully, they do have immense stopping power which has averted disaster and a 300m drop off a mountain road many, many times. I just need to get used to them.

TO BE CONTINUED…
IG: @Lordkinzo FB: Lordkinzo