The 2018 L'Etape Du Tour, stage 10 of the 105th edition of the Tour De France started in Annecy and ended nearly 170 kilometers away in Grand-Bornand. The 'race' started on the shores of the gobsmackingly beautiful lake Annecy and winded its way over some of the most beautiful and scenic French countryside I've ever seen, over FOUR!!!! (count them: one, two, three, four) high mountains. Three of those mountains were hilariously categorized as Cat 1 and one was categorized as an Hors catégorie (HC), which simply means "beyond categorization". In short the climb is too difficult to fit into any of the standard or normal categories.
In truth, given the temperatures, the altitude and the difficulty of the course, at least 2 of the other climbs should have been designated as HC climbs, which is how the popular cycling and activities app, Strava, classes them. Rightfully so too!
Last year's event was the toughest in living memory according to many Etape veterans, and it was thought that it couldn't get any tougher than last years event. How wrong we were! This years's event was much, much tougher than last year's and at this present rate of year-on-year increase in brutality of the Etape, next years event promises to be even tougher.
Thankfully I will not be there to find out just how tough it might turn out to be.
Annecy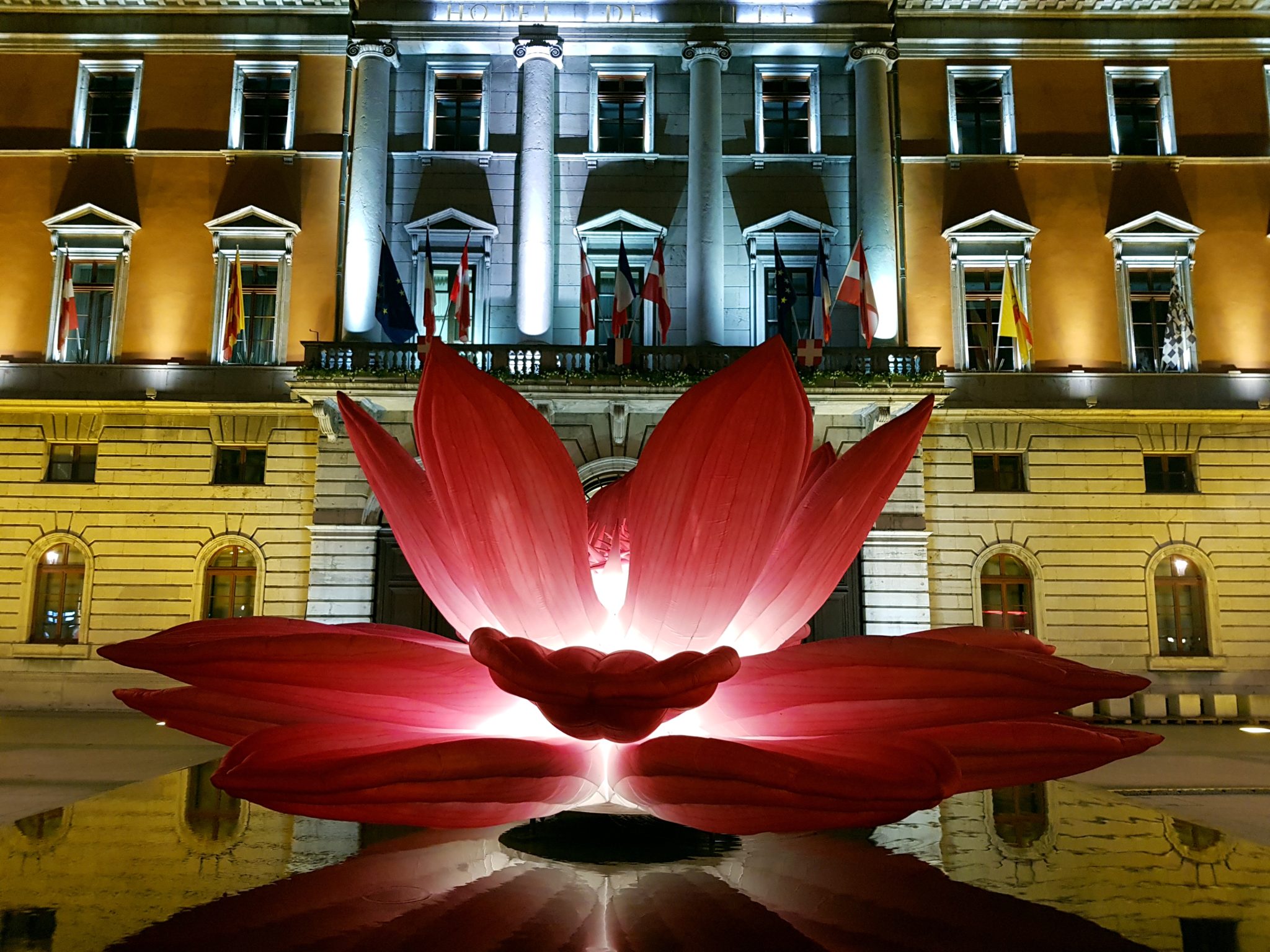 Our base was the lovely town of Annecy in South-Eastern France, along the shores of Lake Annecy. The race actually started right in front of our hotel. I could have walked out of the lobby, jumped over the barrier and started with whatever group was starting at the time. I would later regret not doing so. Sigh.
Annecy (and the surrounding countryside) must rank as one of the most beautiful places on earth and is but a short flight from London to nearby Geneva. This is a recurring theme in our cycling activities: we get to visit and ride in some of the most beautiful places on the planet. Indeed it is one of the main draws of this particular event. I will surely miss that.
Thursday and Friday.
I, along with one of our cycling friends from Nigeria, were the first to arrive in Geneva on the early BA flight on Thursday and by sheer coincidence, we were also being picked up by the same cycling tour operator for the transfer to our various hotels in Annecy. While his hotel was perfectly fine and very conveniently located on the shores of Lake Annecy and the event 'village', mine was not, it was a few kilometers away and lacked so many amenities. In fact, it was very depressing. A return trip from this hotel to Annecy cost almost 80 euros! This would not do. So a frantic search for alternative accommodation began. I later found out that we were not the only ones to seek alternative accommodation. We would need to get very lucky if we were to find suitable, city center accommodation as most of these had been fully booked months in advance.
After spending Thursday night just outside Annecy, we did get lucky and found far more appropriate accommodation in Annecy. Right on the 'race' starting gate. Fantastic. So Friday was spent registering for the event at the race village, moving hotels, setting up our bikes and exploring our fantastic surroundings.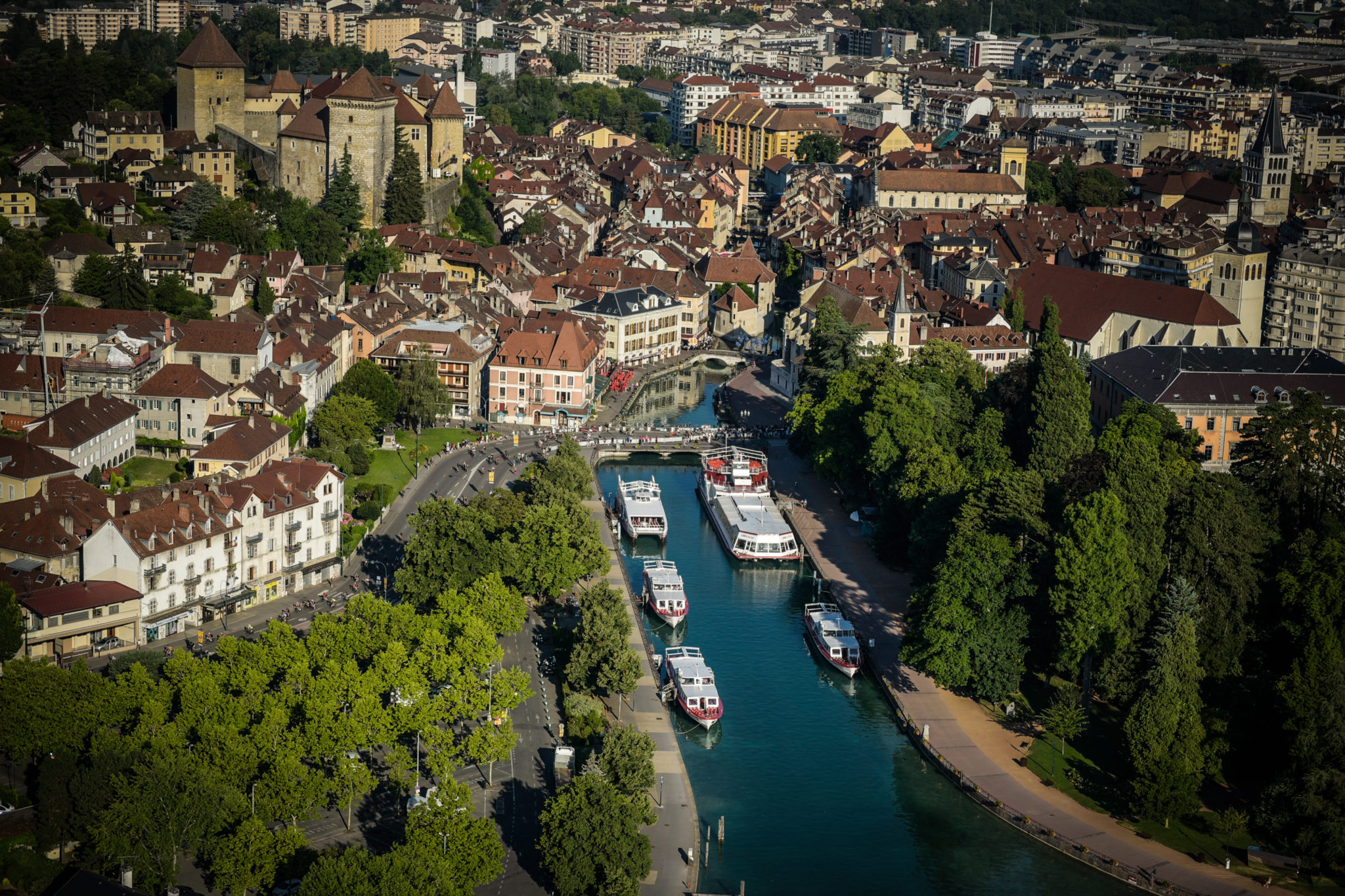 © sportograf
Saturday.
Woke up early on Saturday to ride with the rest of the 'buddies'. It is always important to do one or two warm-up rides. The Saturday ride would be nothing too taxing, just an easy spin around the stunningly beautiful Lake Annecy.
"Lake Annecy (French: Lac d'Annecy) is a perialpine ('around the Alps') lake in Haute-Savoie in France.
It is the third largest lake in France, after the Lac du Bourget and Lac de Grand-Lieu, if the French part of Lake Geneva(which is shared between Switzerland and France) is excluded. It is known as "Europe's cleanest lake" because of strict environmental regulations introduced in the 1960s. It is a popular tourist destination known for its swimming and water sports."
I've been privileged to ride and visit some stunningly beautiful parts of the world and the shores of Lake Annecy is surely among them. The beauty of this area and this region of South eastern France is not only jaw-dropping, it is truly humbling.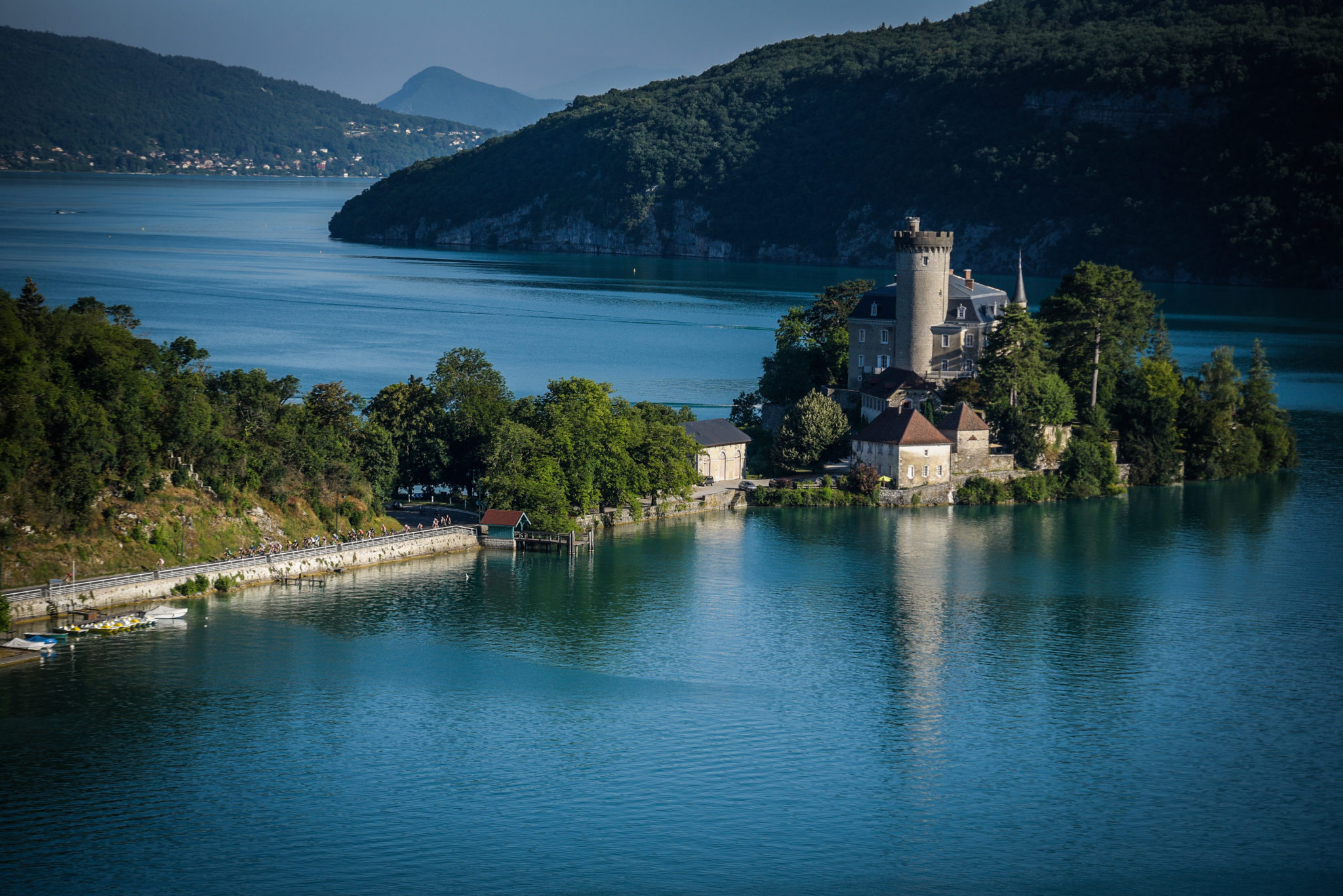 © sportograf
We spent just over an hour riding on the Southern side of the Lake and while many of us would have liked to ride around the entire lake, we had to be quite prudent with our energy stores and reduce our exertions to the barest minimum. The ride around the lake would be far too long for us. I will definitely come back one day to ride around it.
The Lake was a hub of sporting activity and it is easy to see why. I saw so many different types of activities from swimming to boating and kayaking. The locals must be among the fittest people on the planet. How can they not be? We also passed quite a few points of interests and landmarks, our ride ending just past the Pont des Amours, a historic footbridge also knows as the 'Lovers Bridge'. Legend has it that it was originally a meeting point for prostitutes!
Then it was time for a quick shower, a massage in the village and some photos with Didi, The Devil of the Tour De France. We then spent the rest of the day eating carbohydrate-rich meals and obeying the old cyclists' maxim: "Don't stand up if you can sit down and don't sit down if you can lie down".
"Reliquis maximam".