Calpe, Alicante.
As Christmas 2019 approached, we decided we had to get out of a cold and flu-infested London and head to sunnier climes. But where? We had these requirements: Good weather, good food, a beach hotel and it must be a good cycling location. We also wanted to explore new places and this ruled a lot of places out. The answer jumped almost immediately at us: Calpe.
Calpe (Spanish pronunciation: kalpe) or Calp (Catalan pronunciation:ˈkalp), is a town on Spain's Mediterranean coast (Costa Blanca) in Alicante, a Valencian province.
Calpe is blessed with well over 300 days of sunshine a year, value-for-money food, and is but a 30-minute drive to the party town of Benidorm. Alicante and Valencia are also within easy reach by car.
It is also a short two-hour flight from London Gatwick to Alicante airport.

Perfect
The Calpe shoreline is dominated by one towering feature: the Peñón de Ifach (The Rock of Ifach), a huge 332m limestone rock above the ruins of Pobla de Ifac, a medieval walled village. This rock has a thriving birdlife and is a magnet for nature and bird-lovers. This is simply one of the most distinctive and most recognizable natural features anywhere in the world and we would be staying within walking distance of it.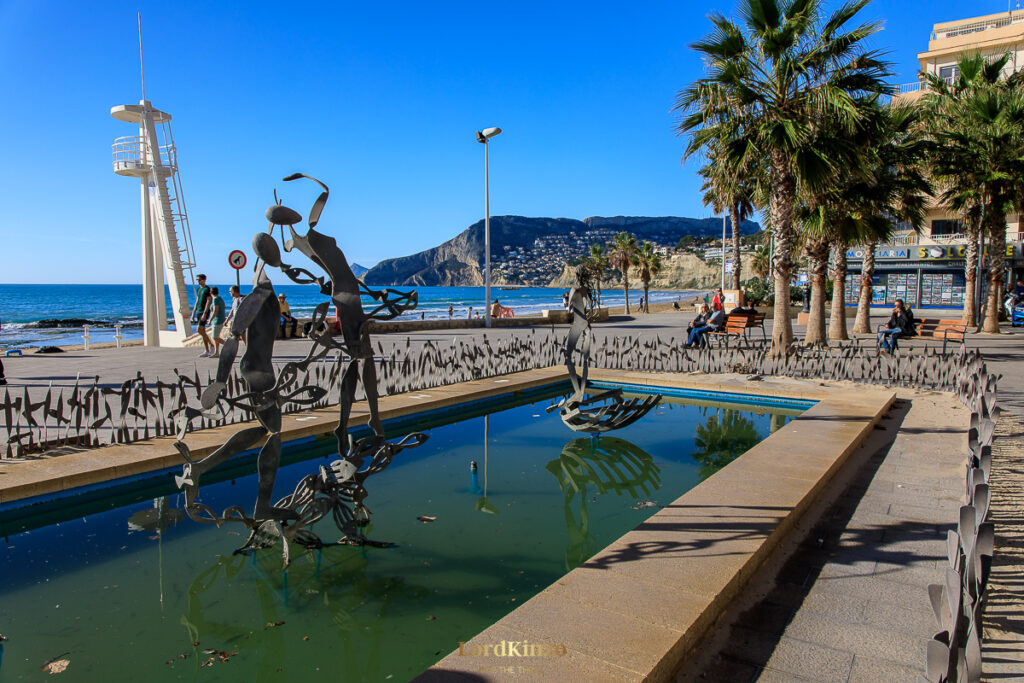 The Unusual Hotel.
We had taken a late flight from Gatwick so we arrived at our hotel, the Sol y Mar Gran Hotel, well past midnight, so I just put the bags away and flopped onto the massive bed and fell asleep.
I woke up rather late the next morning and headed downstairs for breakfast. The breakfast area is a large, glass-fronted room that faces the beach… and the East. This means that if you have breakfast early enough, you get to watch the sun rising during breakfast. Watching the sun rising and gradually filling the room with strong early morning sunlight (so strong that by 9 am, you needed sunglasses if you were facing the East) became one of the highlights of the day.

The hotel also has a well-equipped Spa, a sports performance center and secure bike storage and bike maintenance facilities in the basement. There is also a beach club with spectacular views of the shoreline and the Rock of Ifach. Many guests spent a lot of the day here getting a late-year tan. It is easy to see why the Deceuninck–Quick-Step professional cycling team often use this hotel as a base for their winter training program.
I will detail the cycling activities in a separate article.

After the excellent breakfast, I set up my bike before spending the rest of the afternoon exploring the hotel and the beach before taking a pre-dinner nap.
Ahh! This is the life.
I could have had a 30-minute nap in the middle of some of the roads and it'd have been perfectly safe.
We had dinner at the nearby beach restaurant, Capri. The food was gobsmackingly-good, the service and staff were terrific and the most shocking thing of all was the price: 95 euros for a three-course meal for two, including the mandatory jug of Sangria. We were in Sapin after all. Just check out the five-star reviews of this restaurant on Trip Advisor. I agree with every single one.
The following day, Christmas eve was spent mostly on the bike, riding through some eerily quiet mountainous country to Castells. The roads were so quiet, I could have had a 30-minute nap in the middle of some of the roads and it'd have been perfectly safe.
Christmas Day also started off with a 'beach to beach' bike ride to Benidorm. I rode from Calpe beach to Poniente beach in Benidorm and back, so not only did I spend Christmas in Calpe, I spent Christmas in Calpe on a bike. Brilliant.
These rides are detailed in a separate article.
Boxing Day. Valencia.

One cannot visit the Costa Blanca and not visit some of the sights and attractions in this area. One must take part in some of the 'Touristy' activities, and some of the biggest tourist attractions were located in the City of the Arts and Sciences in Valencia, 120 kilometers away.
Early on boxing day, we pulled out the car, a manual Ford Focus Estate (sigh), from the underground parking lot, set the Waze app for the 'City of Arts and Sciences' and set off.
It was a straight run on one of the fabulous motorways, the E-15, this area of Spain is known for and I now understand why. Fast, smooth and twisty, it offered as much driving entertainment as a motorway can possibly offer.
I even began to warm to the rental car-spec Ford Focus I was driving. It was unexpectedly good.
Never have I wanted to work as a security guard so much.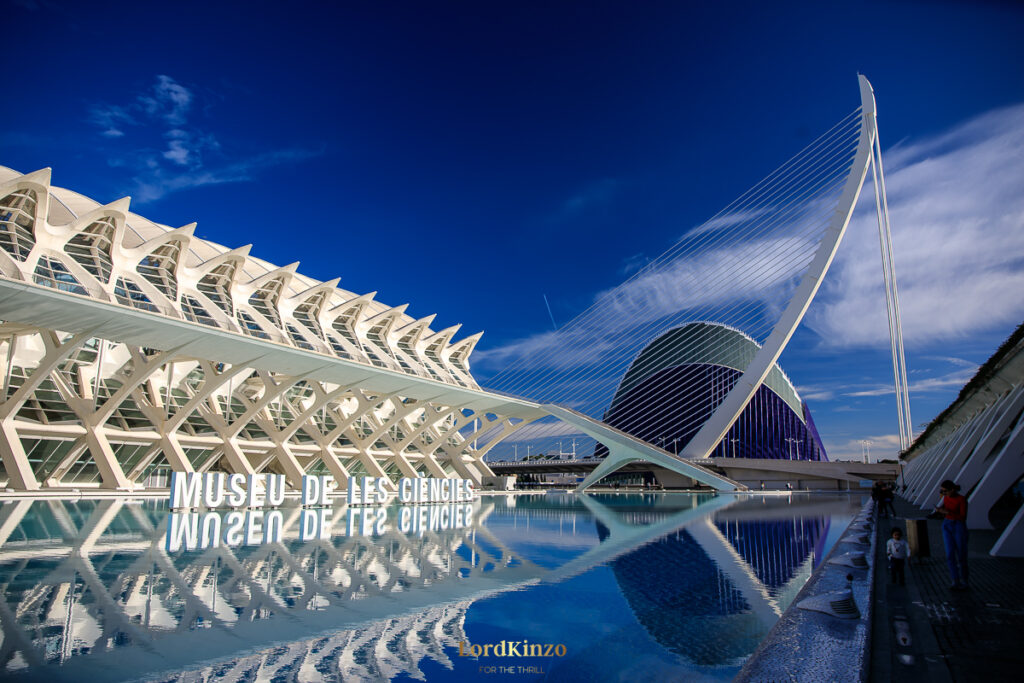 The City of Arts and Sciences.
The City of Arts and Sciences (Ciudad de las Artes y las Ciencias) is a fantastic cultural and architectural complex in the city of Valencia and is the city's most important modern attraction. It is also one of the '12 Treasures' of Spain.
Even the security posts are mini architectural triumphs. Never have I wanted to work as a security guard so much. These are the buildings in this vast complex:
L'Hemisfèric (1988) – An Imax cinema.
El Museu de les Ciències Príncipe Felipe (2000) – My personal favorite. A stunning building that resembles the skeleton of a whale.
L'Umbracle (2001) – This is a landscaped walk covered by an open structure. It looks weird at first, but the more you look at it, the more sense it makes.
L'Oceanogràfic (2003) – This was the first building we visited. It is the largest oceanographic aquarium in Europe with 110,000 square meters and 42 million liters of water!
El Palau de Les Arts Reina Sofia (2005) – An opera house and performing arts center.
El Pont de l'Assut de l'Or (2008) — a white cable-stayed bridge crossing the dry Turia riverbed. This is a stunning structure and I could not work out how it remains standing.
L'Àgora (2009) – A covered events plaza. This building's purpose was not immediately clear to me. It is now.

If you are ever in Valencia, you MUST visit the City of Arts and Sciences. You will not regret it.

Benidorm.
I had more 'touristy' activities planned for Saturday. I'd already visited Benidorm on my bicycle a few days before and knew I had to return. Benidorm is just 20 km away from Calpe and I headed there at midday on the Saturday after Christmas. I ignored the beaches and all the coastal sights and headed up, high above Benidorm's Levante beach, to 'The Cross of Benidorm'.
This wooden cross, erected in the '60s by the villagers for good luck, sits over 400m at the summit of the Sierra Helada natural park above the Mediterranean Sea. It is a 45-minute walk to get to the summit or a 10-minute drive up a sinuous mountain road.
Levante beach seemed a touch 'ordinary' after my almost religious experience at 'The Cross of Benidorm'.
The walk, or drive up to the summit is well worth it for the views. You can see miles and miles of Benidorm coastline and beaches like it was a scale model of the city laid at your feet.
I stayed up there for a good while taking pictures and chatting with some of the mad folk that had cycled up to the cross. Yes, cycled. And not on £10,000 pound lightweight carbon-fiber racers Chris Froome would be happy to ride. Oh no, these guys cycled up on Benidorm's equivalent of the 'Boris bike'. No wonder most of them had to push the bikes up the hill for the last half of the distance. Kudos to them for trying though.
After one hour at the summit, it was time to make my way back down. The descent was even more tricky than the ascent because the views were quite distracting and it was all I could do to concentrate on the driving.

I again ignored the pleasures and sights of the beach at the bottom simply because exploring a beach, even one as good as Levante beach, seemed a touch 'ordinary' after my almost religious experience at 'The Cross of Benidorm'.

I spent the rest of Saturday packing my bike before going for a leisurely walk and some lunch on the promenade. There we had some traditional Spanish 'Tapas' washed down with ice-cold Kopparberg. Then it was off for more relaxing at the Beach Club before dinner at Capri's.
A hard life, I know.
Sunday. Alicante and Home.
Sunday, the day we had to leave Spain came all-too-quickly. Seven days had flown by. Why does time seem to accelerate when you are having fun, but slow down when you are not? Answers on a postcard, please.
As our flight back to Gatwick was in the evening, we had time for some 'touristy' activities. We would be visiting Alicante itself and spending a few hours in the city before boarding the flight home.

At 12 noon, we loaded the car, checked out, and set our destination as Playa del Postiguet in the Waze app and set off. 50 minutes later, we were parking in Playa Del Postiguet, a beach very near Alicante city's town center. The beach is nearly 1 kilometer in length and is situated at the end of the Explanada de Espana, one of the city's emblems, which runs alongside the port.
I even began to play the game 'spot the scruff', looking for scruffily-dressed people.
My overwhelming impression of this city, formed as we walked from the beach and along the beautiful Explanada de Espana, was just how well-dressed everybody was. Even the older folk. The men were almost always in smart jackets and shoes, and the women, even the older women, were in lovely dresses and heels. I even began to play the game 'spot the scruff', looking for scruffily-dressed people. I found none. What was going on? Nothing apparently, that is just how they normally dress over there.

A beautiful city filled with beautiful people.

Just before 4 pm, we reluctantly tore ourselves away from the sights, sounds, dresses, heels, jackets, and gelato of Alicante and headed to the airport 15 minutes drive away. A fitting end to a most memorable trip.
I've spent Christmas in Miami, Paris, Monaco, and Milan. I've spent Christmas in many other fine cities, but Christmas in Calpe was right up there with my best Christmas experiences and cost the least. By far.
Happy New Year.

'Till the next time.