The Journey.
San Jose, California, was my first stop in a whistle-stop business mini-tour of our North American acquisitions. I would eventually cover almost 21,000 kilometers and visit 11 cities in three states by plane and car.
In only 12 days.
So early on a Tuesday at Gatwick, I boarded another one of the new generation of widebody airliner, the Boeing 787 Dreamliner for the 11-hour flight to San Jose International airport. And what a plane it is, whisper quiet with higher cabin pressures which means it feels like you are at a lower altitude than you really are. This results in a far, far more comfortable flight with fewer headaches, fatigue and dry eyes. Hooray! It also has much bigger windows with electrically dimming glass and this was a source of entertainment for me throughout the flight.

Wednesday/Thursday
I'd spent the night at the excellent but fantastically expensive San Jose Westin. Indeed I'd be spending the first four nights of this trip here and silently gave thanks that I would be claiming back the cost of the hotel stay. I headed out to the office in Silicon Valley after a delicious but rather expensive hotel breakfast. The word 'expensive' is one I'd be using a lot over the next few days, only the Ubers and restaurants seemed to provide good value for money.

Eight hours later, I took another Uber back to the hotel in Downtown San Jose and went to explore the fabulous 'Christmas in the Park', a Christmas event and display which was in the town square across the street. Some of these displays and exhibits were exquisite in detail and it was clear that a lot of work and man-hours went into making them. See the gallery below and judge for yourself. Then it was off for dinner at a lovely Mexican restaurant in San Pedro Square and it was time for a jet lag-affected sleep.

The next day, Thursday, turned out to be a rather more exciting day than I'd originally anticipated, I was supposed to be collecting the car I'd booked, a Ford Mustang convertible (the diet version, not the full-fat 500bhp model) from the nearby airport branch of the Hertz car rental company first thing in the morning.
I arrived at the Hertz check-in desk at 8 am prompt and asked (as I usually do) what other interesting cars they had available. I was stunned when the helpful lady at the desk confirmed via radio that they had a Hertz 100th Anniversary Edition Corvette Z06 on the premises! You can imagine what happened next, but it involved a lot of haranguing, pleading, threatening and negotiating, and after 45 mins of this, the manager admitted defeat and gave me the Z06 for only $330 more than the run-of-the-mill Ford Mustang I had booked!
Result!
The Hertz 100th Anniversary Edition Corvette Z06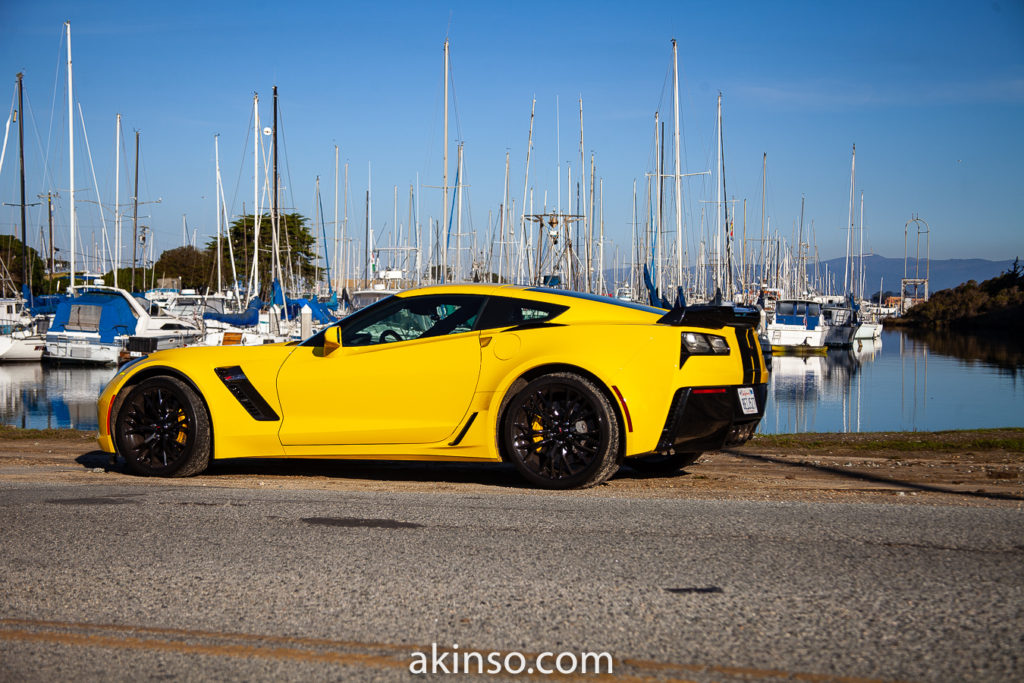 You cannot imagine the sense of satisfaction I had as I nosed the Corvette out of the Hertz parking lot. The attendant at the exit gates said to me as he checked me and the car out: "You realise there are only 100 of these cars in existence? Maaaan! You are lucky". "I know", was my simple response as I blasted out of the car park. I started to get familiar with the car in the short 6-mile drive to Silicon Valley, where it stood out like a sore thumb in the office car park and elicited very strong reactions from all those who saw it.
The Corvette is a much-loved American icon for sure. I'd have felt a bit self-conscious driving such a car in 'BumbleBee' colours in reserved, dour Britain, but not here. It was clear that the car was the star.
I was asked several times: "Which Corvette is it? I've never seen one like that". So I'd have to explain all over again that it is a specially-built Corvette Z06 to celebrate Hertz' 100th Anniversary and that it will be around for months only before they all disappear into private collections and appreciate in value.
Work over for the day, it was time to drive the 30-odd miles to the Livermore Premium Outlet, via motorway and some challenging roads I'd found. It would give me a chance to begin to understand this car on several different types of road. The car did not disappoint and contrary to my expectations proved itself to be an acceptable, if not the most comfortable motorway cruiser. It handled the legendary California traffic jams with ease and I arrived at my destination after an hour-and-a-half as fresh as I could have hoped.
It passed its first test with aplomb.
After a disappointing hour of shopping (or should that be a prudent hour?) and dinner, it was time to head back to San Jose, only this time, the traffic jams had cleared and I could begin to stretch the cars legs. And I had lots of V8-powered company who were all too willing to encourage the enthusiastic use of the loud pedal. Chevy Camaros, Dodge Challengers and all manner of souped-up musclecars were on hand to 'escort' me back to San Jose. America is still in love with the V8, thank goodness for that.

Friday
Friday was a repeat of the previous day: Wake up at an ungodly hour because of the jet lag, gym, get dressed, eat expensive hotel breakfast, drive the short distance to work, answer 100 million questions about the car, do some work while frequently interrupting work to show colleagues the car. Work done, I headed to a different Premium Outlet, the Gilroy Premium Outlet in Gilroy, 30 miles southeast of San Jose. This time though, I'd be stopping at the fabulous Gilroy Golf course and sampling some of the roads around it.
I'm cutting short Friday's events because I want to get to the reason I was so happy to come to California: Saturday's drive to the Big Sur.
Saturday. To the Big Sur.
I could hardly wait to wake up, get dressed and have my customary expensive hotel breakfast and head out to the Big Sur. You see, this drive has been on my bucket list for years, to drive the Pacific Coast Highway (PCH) in southern California to the Big Sur via Santa Cruz, Monterey and Carmel.
The Big Sur is a rugged stretch of California's central coast between Carmel and San Simeon. The Santa Lucia Mountains is on the east and the Pacific Ocean is on the west. You get there using a narrow, 2-lane State Route 1, known for winding turns, seaside cliffs and views of the often-misty coastline. I'd heard of the magnificent coastal views along the route, the stunning mountainous terrain, the beaches and beachcombing, wildlife and state parks. The fact it was also sparsely populated and I'd be going in the off-season were also plus points.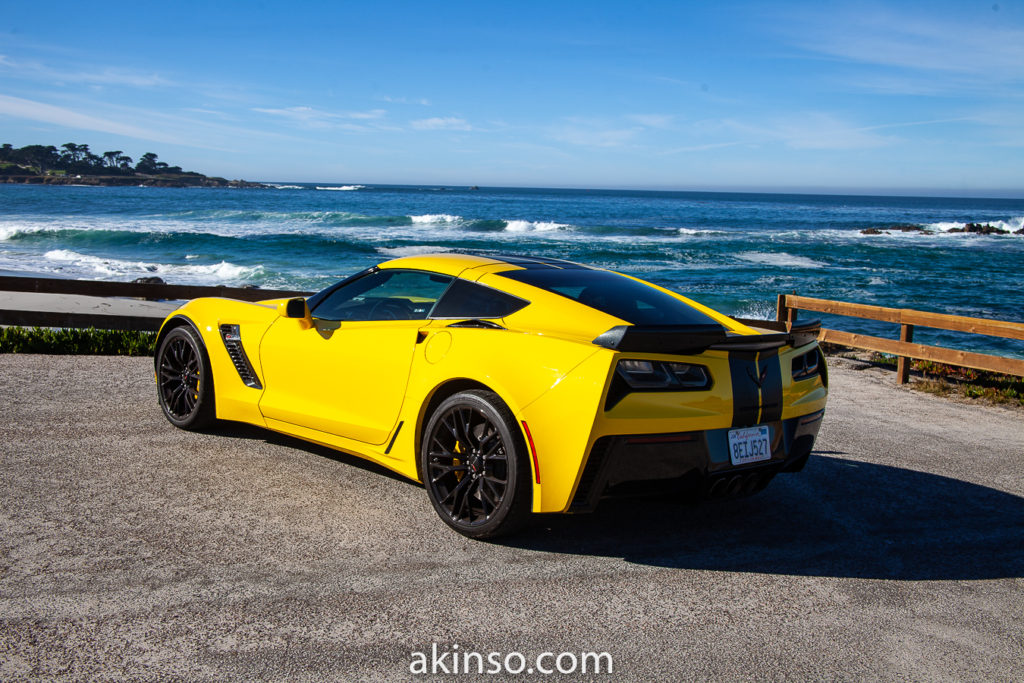 So, just a little after 7 am I set the car's sat-nav for Santa Cruz and guided the powerful Corvette onto the deserted CA-17. This 2-lane highway was a road worth driving on its own, a winding and twisting road with massive elevation changes, sometimes the big elevation changes came in the middle of a complex of corners making it a very challenging road to drive quickly.
My appetite for speed was somewhat dulled when I saw a sign saying "Speed Limits enforced by aircraft". What the? I spent the rest of the drive to Santa Cruz scouring the sky for police planes but did not spot any.
Boring!
I reached Santa Cruz then took the CA-1 to Monterey to continue my journey south to the Big Sur.