There are some options you MUST add to the spec of any 911 which will increase your enjoyment of the car and they are:
The Sport Chrono Package. Its functions provide an even sportier definition of chassis, engine and gears. you can choose between three settings: Normal, SPORT and  SPORT PLUS. Sport plus is the full 'unhinged' mode and really should only be used on a race track. In this mode, the engine is in its sharpest mode, the exhaust is on loud, the gearbox is in its fastest setting and the suspension is at its firmest. Full attack mode.

Sports Exhaust. This enhances point number 1 above.

PDK. This is Porsche's class leading dual-clutch gearbox and is key to the car's Jekyll and Hyde character. You can leave the car in normal, automatic mode and cruise top down with one arm on the door or go into full attack 'Lewis Hamilton' mode at the press of a button. (Lewis Hamilton attack mode is actually known as 'Hammertime' for the F1 aficionados)

The Bose Sound system (or the money-no-object Burmeister system). This utilises 12 active speakers to deliver the second best sound in any car I have ever been in. Blasting The Weekends' 'Starboy' while cruising top down is a life affirming experience.  The Burmeister system is truly stagerring in its depth, clarity and volume. The musical experience is orchestra level and must be one of the best sound systems ever fitted to any car. Frankly, it may be too much for a sports car.
The car never let me down once. It started first time every time , never broke down and was relatively affordable to run considering the kind of searing pace it was capable of. In 30,000 miles, it needed only one set of tyres and three services. Putting fuel, depreciation (more on this later) and insurance costs to one side, the car cost me less than £4,000 in total!!!! The running costs were on a par with any executive saloon.  This is a car that can be used everyday and indeed, this has been one of the models unique selling points for decades.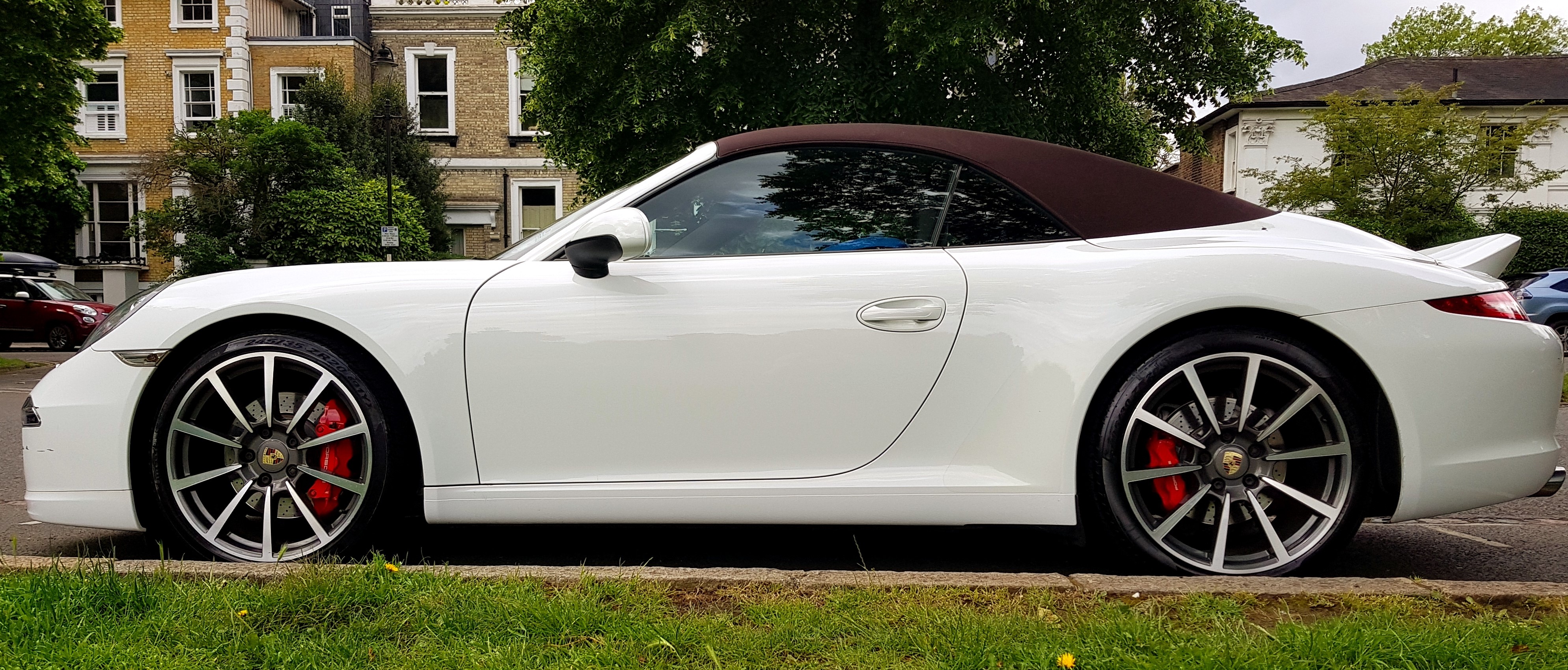 This model though, capable as it is, is not my favourite 911. That honour belongs to my previous car, The  911 C4S  (model code 997.2). A car not as perfect as this one. Why would I prefer what is quite clearly (on paper) a technically  'inferior' car? Why would I prefer a slower, less comfortable, less efficient car? The answer is simple. My previous car was greater than the sum of its parts, the 991.1 was almost too perfect. Porsche has honed its capabilities to such a degree that some of the 'soul' and character has been eroded. I admire, even respect the 991.1 but I loved the 997.2.
So on Saturday morning, I pointed the nose of the car up the M40 to cover my last 100 miles in the car. I was headed to Solihull Porsche, where this particular 911 story began about three years ago. It was a journey tinged with a bit of regret. This was the last time I would be in this car after some truly memorable experiences and a faultless record.
I recently came across one particular fascinating fact: Over 70% of all 911's ever built are still on the roads today! So to paraphrase  Patek Philippe's legendary slogan: "You never actually own a 911, you merely look after it for the next generation."
So farewell P9 AKN, I hope your next custodian enjoys you as much as I did.